Four business ministers meet VP Faure-. Talks focus on increasing trade
04-September-2012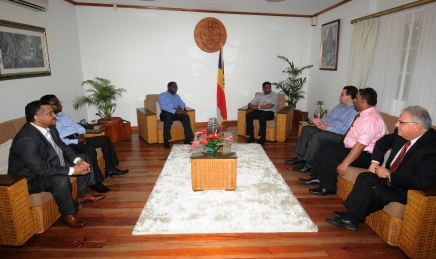 Seychelles Minister for Finance, Trade and Investment Pierre Laporte was joined by his counterparts from Mauritius, Mozambique and Malawi as well as the sector manager of the World Bank John Panzer.
They are here for a two-day conference.
Mr Panzer said talks have focussed on ways to accelerate business between the countries of the region and removing barrier, adding that all ministers are fully agreed to ease services and eliminate barriers as a way of enhancing trade in the region to better cope with the world global crisis.
The countries have solicited the World Bank's help in capacity building to bring this about.
Speaking on behalf of his colleagues, the Mauritian Minister for Business, Enterprise and Cooperatives Jim Seetaram said the talks have been fruitful.
"The new word is to go regional," he said, adding that steps to ease intra-regional trade will be implemented as soon as possible.
Mr Seetaram said once this is achieved, the countries will be setting targets to measure the progress in trade, which is presently too low.
He said all states involved have realised that this is the key to progress, development growth and increased earnings for the peoples of our region.