Basketball: National League-Hawks win fourth league title in a row
04-September-2012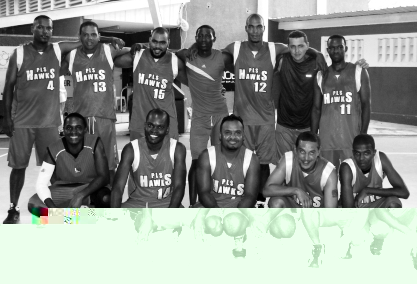 They have previously won the title in 2001, 2002, 2005, 2007, 2009, 2010 and 2011.
Still unbeaten this season, the boys of head coach Clifford Joubert have garnered a maximum 30 points out of 15 matches.
In their last match on Saturday at Victoria Gymnasium, they defeated Baya 92-47 to guarantee back-to-back title for the third year running.
After some resistance from Baya in the first two quarters for a slight 27-24 Hawks' lead at half-time, captain Bernard Bristol and company upped their tempo in the second half to win the third and fourth quarters 34-11 and 31-12 respectively.
Nigerian Alao Solomon was Hawks' leading scorer with 33 points, while Dave Roseline led Baya with 16.
Hawks' last league match of the season is against Mont Fleuri Dawgz.
The defeat left Baya fifth on the table with 23 points from nine wins and five loses out of 14 matches.
In the other men's division one league match played during the weekend, Mont Buxton-based MBU Rockers registered their ninth victory with an 83-77 win over Angels.
After losing the first half 43-36, the Rockers bounced back in the third and fourth quarters which they won 29-20 and 18-14 respectively to win the match and climb to second place on the league table.
Nigel Sinon was MBU's top scorer with 21 points, while Barry Dubignon led Angels with 20 points.
Rockers now have 25 points after nine wins and seven defeats from 16 matches.
As for Anse Boileau-based Angels, they are sixth on 19 points from five wins and nine defeats in 14 matches.
In two women's league match played on Saturday, Mont Fleuri beat HotShots 67-47.After losing the first quarter 13-15, Mont Fleuri shift to a stronger gear to win the second and third periods 12-11, 25-7, before narrowly losing the fourth 15-16.
RA Sisters also won in the women's league, beating winless Juniors 82-32.
Meanwhile, in the men's division two, Anse Etoile beat Beau Vallon 72-68.
R. D.