Berjaya Seychelles Golf Tournament-Esther seizes the moment
04-September-2012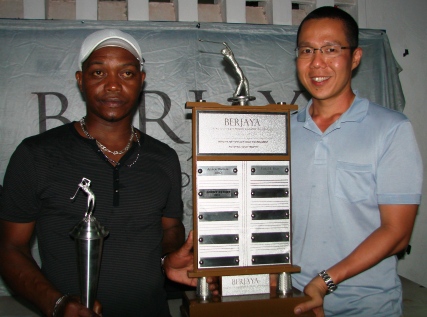 Seven months since making a return to the game after a 10-year lay-off, Esther finished with a gross score of 71 – 34 on the first nine and 37 on the second – for a net 62 after his handicap of 9 had been removed from his total.
"I feel great after this morale-boosting win. I've won some subsidiary prizes over the past months, but this one is the most prestigious so far," Esther told Sports Nation.
The 38-year-old, who has become the third winner of the Berjaya Seychelles golf tournament after Andrew Hoareau in 2010 and Vishal Shah in 2011, added that he feels his game is improving.
Berjaya Beau Vallon Bay Resort and Casino general manager Ken Choo, who also took part in the competition, presented Esther with his prizes which included the floating trophy with his name engraved on, a trophy made of pewter and a weekend for two on half board at the hotel.

He later thanked the Seychelles golf club for the "good organisation of the competition."
On behalf of the 43 golfers who played on the 18-hole course, club captain David Deltel expressed his gratitude to the Berjaya Beau Vallon Bay Resort and Casino for once again sponsoring the "fantastic and prestigious tournament with unusual challenges."
As no one could get the hole-in-one on the sixth hole for R25,000, Mr Choo offered interesting prizes for the club if anyone could get the ball in the cup in the dark and under the rain of the fairway.
The prizes on offer were R10,000 for the first ball, R8,000 for the second and R5,000 for the third. Esther, Jerry Jean-Baptiste, Godfrey Andrade, Shah, Deltel and female player Mandy Didon all missed their shots and Mr Choo said the cash prize will be carried forward into next year's event.
Second overall to Esther was 2010 winner Andrew Hoareau with a net 66. He scored 35 on both the front and back nines before his handicap of 4 was removed from the gross total of 70.
Coming into the competition with a handicap of 22, Tim Horpinitch finished third with a gross score of 89 (43 on the first and 46 on the second nine) for 67 net.
Mandy Didon was the best female player succeeding two-time winner Doreen Loustau-Lalanne, while Shah won the best junior player award with 69 net and was tied for fifth place overall.
Damien Hoareau was nearest to the pin on the fourth hole and Andrew Hoareau hit the longest drive on the 18th.
G. G.