Cancer association discusses ways to help those in need
06-September-2012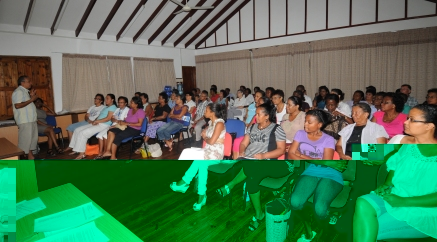 This was during the association's mid-year meeting held at the Exiles Club last Saturday where presentations were given on various cancers and other related issues.
The presentation on the human papillomavirus (HPV) vaccine was done by gynaecologist Dr Robert Michel.
Research has shown that a lot of cervical cancers are caused by the HPV, and the World Health Organisation has recommended that under-developed countries introduce this vaccine.
As a result of this recommendation, the CCA decided to get a medical professional to give a presentation on the vaccine so that the association can learn more about its efficacy, safety and other related aspects.
From this, the association will now discuss, research and make an analysis on the use of the vaccine and if it will be useful for Seychelles.
Other presentations were given by Monica Servina, who was representing the Alliance of Solidarity for the Family (ASFF).
She gave feedback on the special clinic which offers health service to men.
Those with any type of health ailments can come to Room 101 at Dr Chetty Complex on Malakoff Street to discuss their concerns, seek advice or to talk to someone on any aspect of their health.
The Nurses Association of the Republic of Seychelles (Nars) and the ASFF have initiated the service.
Members also learned tips on how to break the news to someone regarding cancer, through Dr Daniella Malulu's presentation.
The association is now looking for a centralised place where it can offer services and is now calling on any individual or organisation to help out.
Member of the National Assembly for Mont Buxton Sheryl Vengadasamy said there is a need for a support group which can work closely with the CCA to give any kind of support to those battling with cancer or dealing with relatives or friends with the illness.
Miss Vengadasamy also gave her word as a member of the National Assembly to bring the cause of cancer before the assembly.