Childminders learn new skills
06-September-2012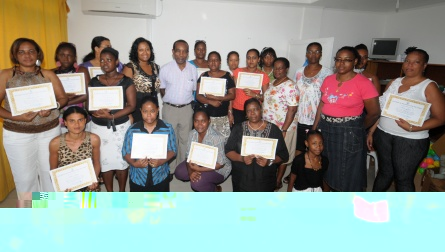 The delegates got their certificates in a short ceremony at the Alliance of Solidarity For the Family (ASFF) office at the Doctor Chetty health complex in the presence of ASFF chairperson Germaine Valentin, chairperson of the Liaison Unit for Non-Governmental Organisations (Lungos) Bernard Elizabeth and ASFF board members.

Mrs Valentin explained due to the growing number of women leaving their homes to work, demands for childminders are also increasing.
She also described investment in their training as a "worthwhile cause" and said childminders play an important part in a child's life as well as provide a service for society.
Mr Elizabeth thanked the government for its support on the project and told the delegates they would now be dealing with a great "adventure and challenge".
"Lungos' role as a non-governmental organisation (NGO) is to help others stand on their own two feet – which is why we decided to embark on the project," he said, adding that more qualified people entering the workforce means less will depend on the Social Welfare Agency for help.
"And helping parents also means helping work places to become more productive which in turn helps society."
Among some of the skills learned by the delegates was learning to care for infants, toddlers and pre-school children as well as establishing routines, how to cope with emergency situations and what to do if a child falls ill.