Youth-friendly services strengthened with draft framework
07-September-2012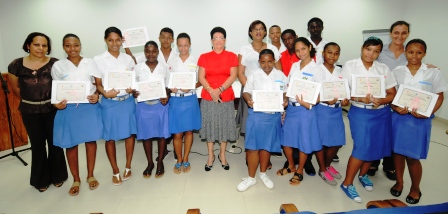 This will be used to improve on the various services the Ministry of Health offers to young people.
A number of stakeholders like the Ministry of Education, non-governmental organisations, the social services, and representatives from the private sector took part in the four-day workshop at the Sheikh Khalifa diagnostic centre.
The workshop was led by United Nations Population Fund (UNFPA) representative Vincent Okullo.

Topics discussed include how to get young people to use more of the services offered, and the barriers that need to be overcome.
Video clips were shown of various young people giving their opinions on how they would want to see youth centres operating, where opinions like staff being judgemental, issues not kept confidential and others were aired.
The closing ceremony was held yesterday at the centre in the presence of the Minister for Health Mitcy Larue who presented those who took part with their certificates.
An outline of a concept for national standards for youth-friendly service, along with recommendations to strengthen the services in the country was presented.
Speaking to Nation, Youth Health Centre manager Judy Brioche said they have managed to identify their weaknesses and have shared case studies of similar problems faced by other countries.
She said that the four-day seminar has been very intensive and the delegates have gained and exchanged a lot of information and knowledge.

"We have also been exposed to other models of youth-friendly services in other countries that have been scientifically proven to work, in many, many places, such as pharmacies, clinics, hospitals, and even in community programmes," she said.

"After looking at all these we have taken the best practices and will adapt them to fit the local context. We will, of course, make sure that these models are up to set standards and the standards are put up with," she added.
A number of students from five schools also received certificates for following a peer educator programme held in August last year. The peer education programme was initiated in Seychelles in 1994 with the help of the UNFPA.
Naomi Vidot from the Youth Health Centre said youth involvement is one of the important elements of making services youth-friendly.
"The role of peer educators goes beyond sharing knowledge to their peers.
It is also one of advocacy on their behalf and finding innovative ways of meeting their various needs. Of course, to enable them to carry out their tasks in an effective way, they also need to be given the appropriate support from relevant adults in their respective settings," she said.

The peer educators received their certificates from Odile Octave, the director general for schools within the Ministry of Education.