Youth professionals more skilled to empower young people
08-September-2012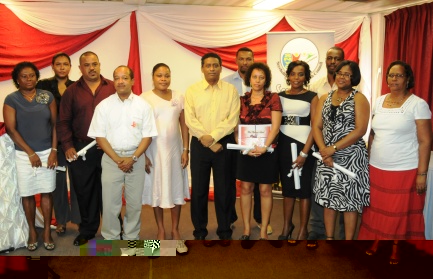 The course has been made possible by the University of South Africa and the group followed modules at the Adult Learning and Distance Education Centre (Aldec).
They received their certificates from the Vice-President Danny Faure at the International Conference Centre Friday in the presence of the chief executive of the SNYC Vicky Van der Westhuizen, chief executive of Jj Spirit Foundation Eddie Charles, director general for youth affairs Fatoumata Sylla, representatives of the council and Aldec, and other youth workers.
Mr Faure said the government has always believed in the empowerment of young people.
"In order to achieve the ambitious goals we have for our youths, it is imperative that the professionals working with them on a day to day basis have the right knowledge, skills and attitudes," he said.
Mr Faure said it is important that the professionals working with the youths understand the various issues faced by their target group.
He urged them to use this diploma as an opportunity, a commitment and an obligation to go forward and to continue on the road as lifelong learners.
Mr Faure added that the government will continue to support the professional development of youth workers.
"As youth professionals use all that you have learned to lift the younger generation higher and to increase your delivery at work," he said.
Mr Charles presented Ghislaine Belmont with the outstanding performer award.
The youth professionals are the first cohort to follow such course with the University of South Africa.