Seychelles prepares for looming African investment-As Malawi brings double taxation avoidance pacts to 34
08-September-2012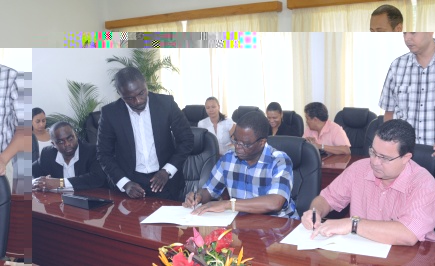 Seychelles now has initialed 18 double taxation avoidance agreements and ratified 16, the last one being with Malawi.
Many of those are with African nations, said Finance, Trade and Investment Minister Pierre Laporte on Thursday as he signed one with Malawian Finance Minister Ken Lipenga.
Noting China and India are emerging economic powers, Mr Laporte said Seychelles sees itself as a gateway between Africa and the Asian nations.
He said our strategic location and the fact that Seychelles has "quite an advanced offshore sector that offers interesting avenues for investment which can attract investors from the continent".
Mr Lipenga said the signing also marked a strengthening of a friendship and opened new avenues for trade between the two countries.
"You seem to have been very successful in attracting investors from throughout the world and as we are trying to do the same, we do not have to reinvent the wheel, we can benefit from your experience," he said.