Hanneman Holiday Residence twice awarded Tripadvisor's certificate of excellence
08-September-2012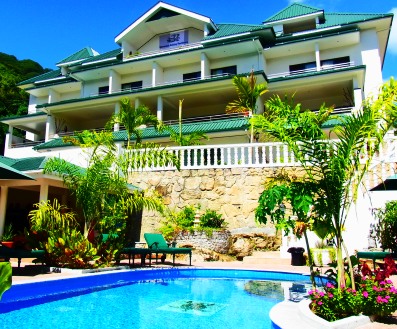 This stylish yet cosy holiday residence serves as a perfect getaway haven for tourists looking for a relaxing escape. With comfortable self-catering apartments and its own private pool all residing in the breathtaking environment of Beau Vallon, it is no surprise that the Hanneman Holiday Residence was rated five stars from reviews.
One of the largest travel sites in the world, Tripadvisor could not ignore the 192 remarkable reviews that boasted the brilliance of the setting, staff and service at the Hanneman Holiday Residence.
The certificate of excellence is only given to the most exceptional performers and it gives the Hanneman Holiday Residence yet another confidence boost. Before winning this award, it was ranked fourth on the list of top 25 Bed & Breakfasts and Inns in Africa and the Indian Ocean.
This award is reassurance that the Hanneman Holiday Residence is moving in the right direction.
"We always strive to be at our best to give our guests the home away from home feeling, and the holiday of a lifetime," says Hanneman Holiday Residence's general manager Hubert Habets.
He went on to say "our philosophy is that mostly the small things can make a big difference".
The management dedicates the certificate to all the staff who work hard to make the Hanneman Holiday Residence five-star quality.
This is a big achievement for everyone working at the Hanneman Holiday Residence and they hope to continue to provide tourists with a luxurious and unforgettable stay.