Students give crèche fresh coat of paint
08-September-2012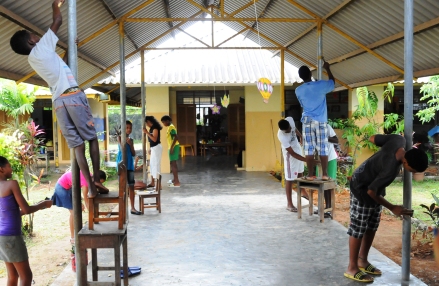 The initiative came about through crèche teachers who asked for help from the Seychelles National Youth Council's east region in collaboration with the Ministry of Education.
"Since the crèche has already been adopted by the District Youth Club (DYC) for Plaisance, Plaisance primary school head teacher Cyril Pillay approached us regarding some paint work needed done on the building," said DYC leader Simon Barra.
Deputy head teacher for the crèche Sabrina Agathine explained that a majority of metal beams holding up the roof had lost their paint coating and begun to rust.
"We thought it would be wise to get those re-painted as our pupils are very young and tend to run their hands over everything ultimately putting them to their mouths, which is not very hygienic," she said.
Mr Barra said the activity is part of an ongoing project which started last term with the cleaning up of the school premises.
"We want to assure the Plaisance crèche that we will continue to help in any way we can," he said.
Paint used by the students was sponsored by the Ministry of Education.
R. B.