All premises to get easy address codes
10-September-2012
Anybody wishing to reach a place will not have to ask their way around or depend on first finding "a landmark such as a crooked coconut tree behind a big rock", management consultant Günter Böhm told Nation on Friday.
The public and clients will benefit greatly because service providers like firefighters, meter readers, ambulance crew, postmen, telephone, cable network, electricity and water company technicians, sewer layers and others utilities providers will be able to go straight where they want.
To do the work, however, the project requires that every road, street and lane has a name, yet most do not, said the consultant, who is working with the Seychelles Postal Services (SPS) on behalf of the Universal Postal Union.
That means although the SPS came up with the initiative and is spearheading the project, the project's reach is far beyond the ease of delivering letters, although that too will become easier.
"One of the biggest initial challenges is getting names for the roads, the other problem is that many premises do not have access roads," said Mr Böhm, who added that every organisation he was referred to denied being responsible for giving roads and lanes their names.
"We have been referred to the district administrators, their mother department of community development and the land transport agency and others who all said they are not responsible," said Mr Böhm, who hoped the naming hurdle would be overcome soon so the project can start in February 2013 and give everybody a new address by 2014.
The addresses will have five digits, the first two representing a district, for example 01 for Anse Aux Pins.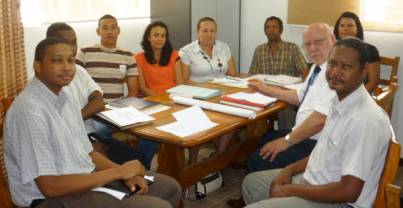 Houses will have number, districts will be given two-digit figures and streets a following two digit code.
If you live along a road to be called Main Street and yours is the 15th house on it, in the first district (01 – for Anse Aux Pins) with a postal code number 1 on lane 35, with the new system, your name and address will be something like Mr or Ms Manyer Ou Apele, Main Street 15, 01135, Anse Aux Pins.
It will not be necessary to denote the district as none will have a code like for another, so even without specifying the island, your address will say whether you are on Grand Anse Mahe or Grand Anse Praslin.
Mr Böhm said there is a steering committee and several working teams leading the project, and they have been meeting over the last two weeks.
We will have a complete address file under a data management system covering all streets and lanes in the country.