Vulnerable people targeted on world first aid day
11-September-2012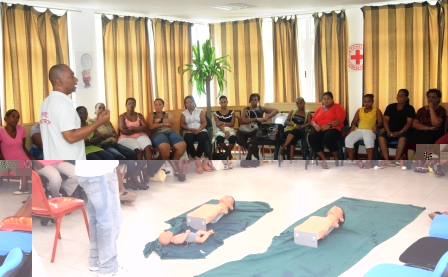 The event aims to educate people about first aid and its importance in everyday life.
This year, the theme chosen is 'First aid for vulnerable people', and the local Red Cross branch also commemorated the event here.
An activity held at the Red Cross Society of Seychelles' (RCSS) base at Providence on Saturday included a training session for a group of child-minders and day care centre attendants.

RCSS secretary general Colette Servina told Seychelles Nation that children are often seen as vulnerable, especially the very young, and that the workshop should help those taking part to be able to give first aid to them should a situation require it.
"First aid is one of the primary foci of the Red Cross society, and we are always taking this knowledge to the public on a nation-wide level, by taking on different groups at a time," she said.

"As we target vulnerable people, we have done activities for the elderly this year and have even taken our activities to other islands, like La Digue."
She added that their first aid programmes are continuous and are not only held on the world first aid day.
"We extended invitations to all day care centres on Mahe but unfortunately not all of them responded, but we are fairly satisfied with the turn-out. First aid is a very important skill that everyone should know, since it can save a life or several lives," she said.

Topics in Saturday's session included:
• How to know if a child is breathing or not,

• How to know when a child has stopped breathing,

• How to know when a child has slipped into unconsciousness or his/her heart has stopped beating, and
• What one should do in these circumstances.
They also learned what to do when a child is injured, how to stop the bleeding, and how to deal with children who have epileptic fits, broken bones, burns, asthma attacks and more.
Mrs Servina again stressed the importance of everyone knowing first aid and asked everyone to make an effort to learn these skills.