Karting-Two teams to fly country's flag at Dubai race
11-September-2012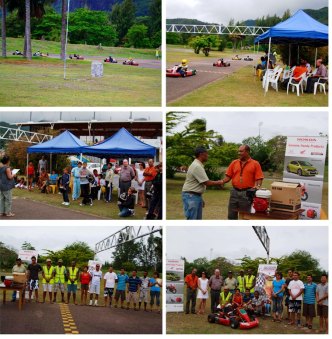 She made the announcement during a special ceremony organised jointly with the Seychelles Tourism Board (STB) – the association's official partner for the championship – recently, to introduce members of the teams who will compete in the 12-hour annual event.
The gathering was attended by Tourism and Culture Minister Alain St Ange, STB chief executive Elsia Grandcourt, representatives of the National Sports Council, SKA executive committee members as well as parents and relatives of the drivers.
Mrs Rene-Cosgrow said after years of existence, the SKA has now entered a historic moment and sending two teams to the championship proves that the local drivers are eager to get there and be competitive.
She added that the drivers are going there to compete and show their talent and not just for fun.
The SKA chairperson explained that members of the second team who were only registered less than 10 days ago did their own fund-raising to pay for their expenses.
As for the new partnership with the STB, Mrs Rene-Cosgrow said it will allow the local drivers to put Seychelles in the limelight.
She thanked the STB and the Ministry of Tourism and Culture for answering their call to partner with them in promoting this event and in bringing karting forward.
For his part, Mr St Ange said just taking part in the competition is already a win for Seychelles as the drivers will be flying the country's flag at an international event.
He reminded them that any association taking part in an overseas event is another exposure for Seychelles.
Mr St Ange also said the trip will give our country added press recognition and, this, he said, helps Seychelles to succeed.
The SKA would like to thank all the sponsors who helped in realising the trip. They are Hunt Deltel, EHW Honda, Excel Motors, The Boat House, Land Marine, Vijay Construction, Yangtze Construction, National Sports Council and Berlouis Mondon Design Studio.
The drivers will leave for Dubai on October 8.
They are David Rene (captain) Peter Fred, Roland Delcy, Marc Delcy, Damian Bonnelame (team one), John Simon (captain) Stephan Simon, Dane Decommarmond, Marvin Sophie, Redmond Bonnelame (team two).
They will be accompanied by reserve driver Debra Mellon and official Bernadette Mein.