Gala dinner's proceeds to boost STA staff's capacity
13-September-2012
In a ceremony held at the STA campus last Friday afternoon, Alfred Fourcroy, the chief executive of ISPC Seychelles – a hotel catering company – handed over a cheque for R91,000 to Mr Joubert.

Present for the ceremony were the Minister for Tourism and Culture Alain St Ange, principal secretary for education Merida Delcy, and special advisor for culture Raymonde Onezime.
Mr Joubert said the academy is doing its utmost to work with trade partners and the main reason is because without them, the STA cannot move forward.
For the past three years, the STA, in collaboration with trade partners, have been organising a national culinary competition and the winners of the contest then take part in a gala dinner and present their winning dishes.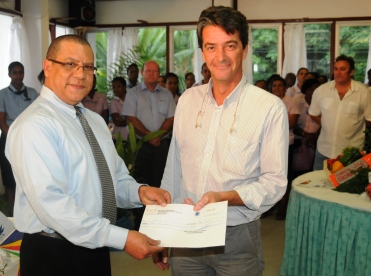 Money raised during the gala dinners is used to buy necessary equipment for the academy's training courses, infrastructure and general daily operations.
This year's proceeds, however, will be used to train STA staff.
Speaking to Nation, Mr Joubert said some of the capacity-building programmes for the staff will include team-building and positive thinking, which is also a reward for all their hard work.
A memorandum of understanding was also signed by the STA principal and the ISPC chief executive for further and continued collaboration. Under the agreement, the STA will also be able to buy at cost price from the ISPC materials that students use in their training.
Mr Fourcroy said professionalism in the tourism industry means high standard of service and service is based on people.
"The role of the STA is critical in this perspective. Our industry can only grow on the basis of well-trained and educated people," he said.

"The reason why the ISPC organises the culinary contest every year is because it wants to emphasise on the quality of chefs in Seychelles.
The ISPC intends to both support education programmes and to reward the chefs who will tomorrow make known the good name of the Seychelles gastronomy."
The event also served to launch this year's national culinary contest and Mr Fourcroy said that qualifying rounds will be on October 8, 9 and 11 at the La Plage restaurant.
The finals will take place on November 13, 14 and 15 at the STA.