Seychelles' renewable energy plans get big boost
13-September-2012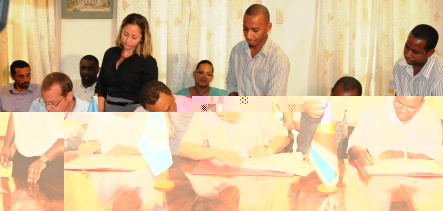 The agreement was signed by the newly accredited UNDP representative for Seychelles, Simon Springett, who is also the UN coordinator here.
Signing on behalf of the Ministry of Environment and Energy was principal secretary Wills Agricole and the Focal Point person of the UNDP's Global Environment Facility (GEF), Didier Dogley.
The signing paves the way to increase grid-connected solar energy systems in selected areas of Mahe, Praslin and La Digue as well as on some outer islands, to gradually reduce our dependence on fossil fuel.
The ceremony took place at the Maison Quéau de Quinssy in the presence of Foreign Affairs principal secretary Maurice Loustau-Lalanne, the programme manager in the UNDP office in Mauritius for Seychelles, Roland Alcindor and the chief executive of the Energy Commission, Andrew Jean-Louis.
Mr Agricole said the signing represents an important commitment for the future, that we, as a small developing island state, are willing to make despite all the challenges that we face, in order to achieve significant progress towards renewable energy.
He said that the photovoltaic system, worth $1.16 million, symbolises the excellent partnership which has prevailed over decades between Seychelles and the UNDP.
Mr Agricole took the opportunity to note that Seychelles has taken several steps in the past few years to come up with a new, comprehensive national energy legislation which will be submitted to the National Assembly in October.

This legislation, he said, will facilitate the promotion and development of renewable energy technologies in the country as a national priority by facilitating the creation of an Independent Energy Regulator and clearly defined Independent Power Producers (IPP) regulations.
Mr Agricole said that one island which has benefitted from similar technology this year is Aldabra, which is no longer dependent on fossil fuel.
"It gets all the power it needs -- as long as the sun keeps shining -- from an installed photovoltaic system, costing 500,000 euros.

He expressed confidence that this project will do likewise for other selected islands of Seychelles.

Mr Springett said while the project is moderate at the beginning, it opens doors for future opportunities in the tapping of renewable energy sources.
Speaking to the press later, Mr Loustau-Lalanne, who heads the Seychelles Islands Foundation (SIF) which manages Aldabra, said the photovoltaic installation there can supply 100% of the atoll's needs.

He noted that while fossil consumption was 2,000 litres monthly before when using the fuel powered generator, this is now barely 100 litres since April, when the solar energy system was installed, as it works so well and is so economical.
Aldabra however still has a standby generator which it uses only occasionally to keep it in good running order.