Seychelles' rep at the UN accredited
14-September-2012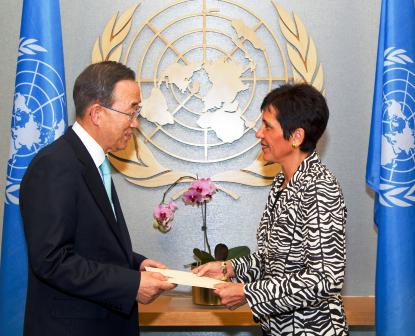 She presented her credentials to the organisation's secretary general Ban Ki-Moon at the UN headquarters in New York, United States on September 5.
The presentation was followed by a brief tête-à-tête with Mr Ki- Moon in which Ambassador Potter conveyed greetings from President James Michel and thanked the UN for the help being extended to Seychelles in its fight against piracy through the United Nations Office on Drugs and Crime (UNODC).

During the discussion, the UN secretary general applauded Seychelles' leadership role in this challenging task, and reiterated the UN's continuing support and commitment.
In addition, Mr Ki-Moon praised Seychelles for its various achievements, notably the Millennium Development Goals (MDGs) and expressed his desire to visit Seychelles, which he described as "a very beautiful, interesting country with hardworking people".
Ambassador Potter has taken over the post of Head of Mission of the Seychelles embassy in New York from Ambassador Ronny Jumeau, who is still based in New York as Seychelles' Ambassador for Climate Change and Small Island Developing States (SIDS) issues.