Enjoy Seychelles' waters at your own relaxed pace
14-September-2012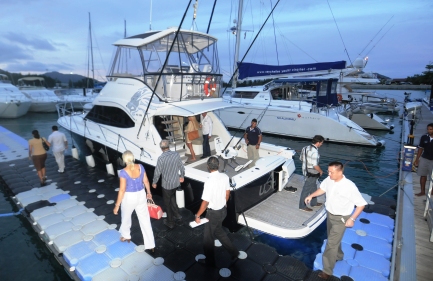 Ocean lovers can now truly get a taste of a luxury vacation at sea, experience sport fishing in a classy and elegant style, cruise and explore the wonders of the underwater world.
Seychelles Yacht Charter, a company with two years experience operating locally, offers us all of the above and other five-star services at sea.
The Seychelles Yacht Charter
The Seychelles Yacht Charter is one of the world's premier yacht charter companies. It offers a variety of yacht charters in Seychelles as the company specialises in luxury cruising and day trips, and fishing excursions.
Apart from its private fleet, the Seychelles Yacht Charter has a wide brokerage to choose from. The company is also promoting the idea of brokerage within the boating industry.
The private fleet
The company's private fleet consists of our Nkalindau, an elegant fully equipped Fountaine Pajot Eleuthera 60 five-star luxury catamaran, and the Riviera 43 uShaka which is the ideal yacht for adventurous fishing trips.
Nkalindau has a comfortable sleeping capacity for eight adults and two children.

The catamaran offers total privacy and comfort for its clients and is equipped with the latest entertainment and communication technologies as well as water toys, including kayaks and snorkeling equipment.
Clients' needs are well catered for by a full-time private chef and an outgoing hostess and it is manned by a well-qualified captain.
The catamaran was completed and commissioned in April 2010 from the Fountaine Pajot shipyard and arrived in the country in August the same year.
The uShaka yacht can cater for up to six passengers. It was completed and commissioned in July 2011 at the Riviera factory in Australia and arrived in September the same year.
The boat show
On September 10, 2012, Seychelles had its first ever boat show. Several guests gathered at the Konoba restaurant, Roche Caïman for the launch.

The Seychelles Yacht Charter company hosted a cocktail reception which also included a visit of the yachts on show.
Clients and agents were given the chance during the week to visit three yachts and they can still do so until Saturday.
The boats on show are the Nkalindau and the uShaka, and the Motor yacht Seastream, a 76-foot Ferretti.
The event aimed not only at promoting the company and its services but also increasing awareness of the boating industry locally, and promoting the company's brand and its fleet.
It is also aimed at bringing more awareness on the brokerage initiative, giving agencies and yacht owners the chance to learn more about the services offered by the Seychelles Yacht Charter.
Being the broker, the company acts as the intermediary between the client and the charter.
Lynn Gower, marketing and sales manager, said the boat show is set to be an annual national event.
She said the company is planning to regroup more boats in next year's boat show.
More information can be accessed on the company's website www.seychellesyachtcharter.com