New TV programme for children launched
15-September-2012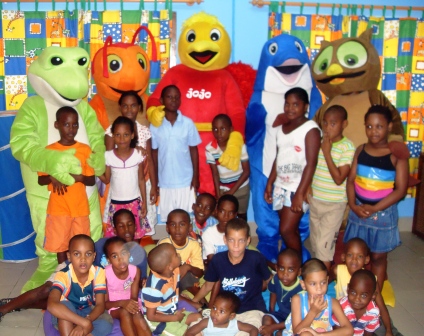 Through the Jojo and Friends mascot, the SCF is also committed to educating and informing the children of Seychelles on various issues and good living values using electronic media and other IEC (information, education & communication) materials.
As part of its mission in reaching out to the children of Seychelles, the SCF in collaboration with the Seychelles Broadcasting Corporation (SBC) is launching a new children's programme on television called 'JoJo & Friends'. The aim of the TV show is to educate, inform and entertain the young audience, stimulate their imagination and promote learning outside classroom using the SCF mascot JoJo and his friends.
The programme, the first broadcast of which was yesterday, is aired at 6.05pm fortnightly on SBC television.
The programme will include interviews, games, do-it-yourself and a special segment 'letters of the alphabet'.
Viewers will also have the chance to take part in future programmes.
The new TV show is part of a comprehensive project initiated by the First Lady and chairperson of the SCF, Natalie Michel. The project will include other activities.