Squash: Hunt Deltel and Jouel Tournament-Prashant and Morel the winners
15-September-2012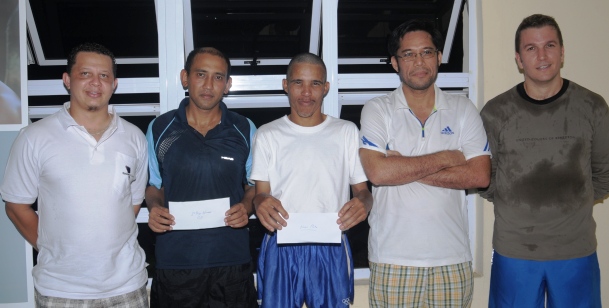 In the finals which took place on Thursday at the Mont Fleuri squash courts, Prashant easily defeated Rod Thorington 3-0 ( 11-6, 11-8, 11-4) to win the title, while in the plate final Morel came twice from behind to beat Michael Landon 3-2. The set scores were 3-11, 11-4, 8-11, 11-4 and 11-4.
Prashant's road to victory started with a 3-0 win over Sam Gardner before eliminating Nigel Pillay 3-2 in the semi-final, while Thorington started the competition with a 3-0 victory over SSA chairman René Durup, before eliminating Eva Alphonse 3-2 in the semi-final.
As for Morel, he moved to the final of the plate competition after registering two straight-set victories (3-0) over Dari Alphonse and Paul Mondon respectively. Landon on the other hand qualified for the final after eliminating Jean Weeling-Lee in the semi-final.
During the prize presentation, chairman Durup thanked all the sponsors for their continuous support, as well as the players for taking part, guaranteeing an interesting and exciting tournament.