China's ruling party seeks closer ties with Seychelles counterpart
21-September-2012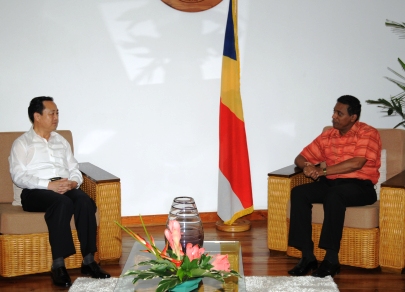 The seven-member delegation – led by Huang Xianyao – met the secretary general of the Parti Lepep Vice-President Danny Faure at State House on Wednesday and held discussions on various topics of interest to both parties.
The Communist Party of China (CPC) is the founding and ruling political party of the People's Republic of China (PRC) and has as its party leader Hu Jintao, who holds the title of general secretary of the Central Committee.
The delegates, who are from the province of Guandong, are on a three-day working visit.

They were accompanied to State House by the Chinese ambassador to Seychelles Shi Zhonjun.
Speaking to Seychelles Nation, Mr Huang said they are seeking to strengthen the exchanges and cooperation between the two governing parties, as well as promoting common development of the two countries and enhancing friendship between the two peoples.
"Despite the long physical distance between the two countries, Seychelles' and China's governing parties have a lot of exchanges on a daily basis," he said.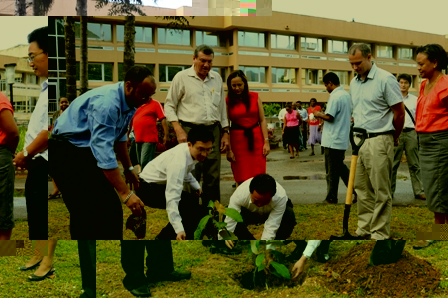 "These include frequent exchanges of senior leaders from the two parties, as well as participation of representatives of the Parti Lepep in workshops organised by the CPC. We also have much cooperation between the youth and women from both sides."
He added that during discussions with Mr Faure, they had done a comprehensive review of the journey of the relationship of the two countries and the two parties.
"We compared notes on our experience in leading our county's respective socio-economic development and party-building and how to better have exchanges as we move forward."
The delegation later called on the Parti Lepep's chief executive Olsen Vidot at Maison du Peuple, and met central committee members.
They also took part in a tree-planting activity in the courtyard of the Maison du Peuple and met militants of the party at the Roche Caiman district administration.

The visit of the Chinese delegation comes only months before the CPC holds its 18th congress.
The Guandong province is also interestingly where many of the Chinese merchants who have settled in Seychelles came from, and this year marks 150 years since the arrival of the first Chinese immigrants in Seychelles.