Mechanics learn about world's top spark plugs
21-September-2012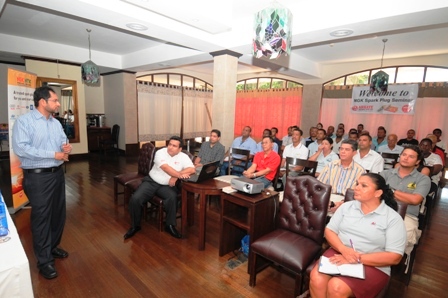 The gathering of over 60 mechanics, including some from Praslin, was organised by Abhaye Valabhji, the NGK agent for Seychelles.

Presentations were made by Pervez Malik and Mohamed Iqbal from the NGK's centre in the UAE, which is the Seychelles' supplier.
The spark plug serves as a lighter to ignite the air/fuel mixture.
It was stressed that even when a good fuel and air mixture is supplied to an engine, and good compression exists, it will not start without a good spark product.
A quality spark plug is a critical part of any motor vehicle.
The NGK spark plug's headquarters are in Nagoya, Japan where it was set up in 1926. It has 30 factories and distribution centres worldwide, notably in Asia, the Middle East and Europe.

Mr Malik said that NGK is the spark plug most used in South Korean vehicles, such as Hyundai and Kia.

He added that NGK spark plugs are also manufactured in Korea, a statement which triggered debate about differing standards.
NGK spark plugs entered the UK automative market in the early 1970s, advancing from a market share of below 6% to over 50% which is increasing. Elsewhere in Europe, it is widely used by such manufacturers as Peugeot, Renault, Volkswagen, BMW and Fiat.
At the presentation, it was stressed, that NGK has over the past decades emerged as the brand leader in the spark plug market and the Number One choice of the professional, as a result of its quality, technical expertise and total commitment to research.
The NGK spark plug has 16 components, including electrodes and sensors made from such rare elements as platinum and iradium.
This has led to major successes with vehicle manufacturers, who are increasingly specifying plugs so as to achieve maximum performance from their engines.
During the presentation, it was stressed that NGK dominates the world market, being the favourite for high end performance in autocars, motorcycles, marine motors, as well as racing cars.
Mr Iqbal said the durability can be as high as 100,000 kilometres for motor cars which is very significant for a small country as Seychelles.
NGK deemed such a prime product and commanding such a large market share, has also prompted the production of a large quantity of fakes.
The mechanics were told how to differentiate the fake from the genuine NGK spark plugs.