2nd Global Conference on Agriculture, Food Security and Climate Change-Seychelles rally support to boost farming projects
21-September-2012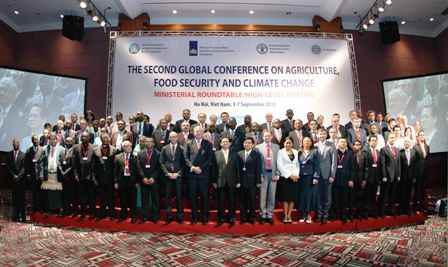 This follows discussions the Seychelles delegation had on the sidelines of the recent global conference on agriculture, food security and climate change held in Hanoi, Vietnam.
The Minister for Natural Resources and Industry Peter Sinon and his special advisor Antoine-Marie Moustache attended the September 3 to 7 conference held under the theme Hunger for Action.
The conference, the second of its kind after the first held in the Hague in 2010, was to bring the world decision-makers together to discuss and present their perspective on the issue of climate change and food security through agricultural productions.
It also aimed to promote the new concept of Climate Smart Agriculture and adopt its best practice.
Climate Smart Agriculture (CSA) is defined as an agriculture that sustainably increases productivity, resilience (adaptation), reduces greenhouse gases while enhancing the achievement of national food security.
Good examples of CSA include conservation agriculture, agro forestry and integrated forest, farm and fish systems.
The conference also provided a platform for networking among countries' senior decision-makers where experiences in national policy affairs relevant to climate change, food production and security were shared.
In a recent interview, Mr Moustache described the conference as very enriching and fruitful.
"It has broadened our knowledge on many issues and agricultural aspects and allowed us to better understand how big countries seeking to provide help for development in agriculture see us and we have also learned how to better draft, formulate and direct requests for aid," said Mr Moustache.
He said Seychelles welcomed the opportunity to talk with various ICPs, a process which he said started here some time back and has already resulted in the signing in the past three weeks of two memorandums of understanding with the African Development Bank (ADB) and the International Fund for Agricultural Development (Ifad).
"Both financial bodies have been absent in Seychelles agricultural development for many years and now we aim to explore all opportunities to lobby for financial reinvestment in the national agricultural sector," added Mr Moustache.
"For many years now the agricultural sector has survived only on the annual budget provided by the government with no outside help," he noted.
He stressed that as the country forges ahead with the investment plan and programme for agricultural development projects, it needs all the help it can rally to support this process.
Another segment of the conference was a high level ministerial meeting which was launched by the Vietnamese Prime Minister Nguyen Tan Dung.
During that meeting Minister Sinon presented the recommendations of a two-day pre-conference workshop for Indian Ocean Commission (IOC) countries held here in August.
The IOC countries' recommendations identified both sea and land based food production issues brought on by climate change, as well as assessed the roles that agricultural cooperatives played and will play in achieving a more adequate food and nutrition security and sovereignty of the IOC member states.
The IOC recommendations are now accessible to a wider audience and it is expected that experts working on climate smart agriculture projects will take better note of small islands' issues.
The various challenges Seychelles as a small island state is facing was also highlighted by Mr Sinon.
Mr Sinon also called on the organisers to consider a global conference to address food security issues specific to small islands developing states.
The next global conference is expected to be held in South Africa next year.