Football: Barclays league division one-St Michel register biggest league victory
22-September-2012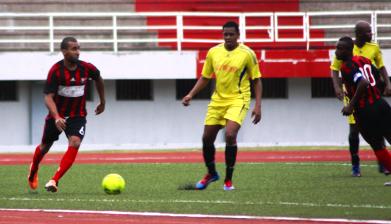 St Michel had too much firepower for a Quincy side which tried to play whenever they had possession but could not match their more illustrious opponent as they had to defend for most of the match.
There was a gulf in difference and St Michel almost scored a goal in the first minute as the lurking Leeroy Corallie pounced on a back pass by Quincy's captain James Bill to round goalkeeper Darren Barbe but the ball ran out of play.
St Michel though duly went ahead in the third minute as Gervais Waye-Hive produced some good work to elude two defenders to pick out his captain Don Anacoura who stooped low to open the floodgates to make it 1-0.
In the fifth minute, Allen Larue saw his strong header from a Waye-Hive cross pushed away by goalie Barbe.
Quincy Aubrey Songoire had a decent chance in the 10th minute as he chased a long ball but delayed his shot allowing Samuel Henriette to tackle him and concede a corner.
Quincy, who were without coach Elsie Ernesta who is overseas and had Gerald Gonthier acting as assistant coach, shocked St Michel from the resulting corner lofted by Michael Hertel to George Ravinia who headed past goalkeeper Nelson Sopha for a 1-1 score.
The goal though fired St Michel up and they then went on to batter Quincy with a ruthless performance as they reached double figures.
In the 13th minute, St Michel restored their lead as Henny Dufresne beat Quincy's offside trap to collect Nelson Laurence through ball and he lobbed the advancing goalie Barbe for a 2-1 lead.
Two minutes later Larue sent a teasing cross which Leeroy Corallie connected to but it crashed against the crossbar with Quincy struggling to match their opponent.
In the 17th minute, St Michel stretched their advantage as Waye-Hive picked out Larue with a corner and his header was helped over the line by Quincy's defender Ted Bill to make it 3-1.
Two minutes later St Michel went further ahead from another Waye-Hive corner which was met by Laurence which came off the crossbar. In the impending mêlée, Leeroy Corallie drilled the loose ball into the net for a 4-1 score.
In the 26th minute, Waye-Hive was at the end of a sweeping move by St Michel to shoot at goalie Barbe who got a touch to the ball as it rolled over the goalline for a 5-1 scoreline.
St Michel were enjoying their game as Quincy had their backs to the wall and in the 32nd minute, captain Anacoura and Laurence combined with some deft touches to carve open up Quincy's defence. Anacoura set up Laurence who bundled the ball over the goalline to make it 6-1.
In the 40th minute, St Michel was even denied a blatant penalty by referee Nelson Emile when Ted Bill tripped the overlapping Samuel Henriette in full flight.
Quincy made three substitutions at half time as Charles De Clarisse, Dyan Malbrook and Jerry Freminot were introduced in an attempt to stop the demolition.
St Michel though continued to rip apart Quincy at will and in the 51st minute, Malagasy Jimmy Radafison surged forward to link up with Corallie who threaded a pass to captain Anacoura.
However Anacoura's lob came off the foot of the post as Quincy rode their luck.
Two minutes later St Michel scored again as Dufresne released Corallie but goalie Barbe raced off his line to clear the danger as far as the same Dufresne who thumped the ball into an empty net to make it 7-1.
Quincy had a good chance in the 65th minute as substitute Freminot showed good skills to skip past Dufresne who had dropped in defence. Freminot centred to substitute Dyan Malbrook but he miscued his header from close range.
In the 70th minute, St Michel exchanged passes involving substitute Andy Mougal and Laurence to put Corallie through and his shot was helped over the goalline by captain Anacoura for an 8-1 lead.
Two minutes later Mougal got on the scoresheet as captain Anacoura filtered a superb pass to Mougal who raced clear to shoot low past goalie Barbe for a 9-1 advantage.
Quincy had to continue the match with only ten players after Songoire limped off injured in the 75th minute and his team's misery was not over.
St Michel reached double figures in the 79th minute from a glorious cross by substitute Alex Nibourette which was headed home by Corallie for a 10-1 score.
A minute later Nibourette played a neat one two with captain Anacoura and the former's shot was turned past his own goalkeeper by defender Jason Fred for an 11-1 scoreline.
Captain Anacoura completed his hat trick in the 82nd minute as Nibourette fed him and he turned to curl a beautiful shot into the top corner with his weaker right foot to make it 12-1.
St Michel put the icing on the cake in the 89th minute as Nibourette latched onto a through ball to rifle a strong shot in the far corner for a whopping 13-1 victory which propelled them to the top of the league table on goal difference ahead of La Passe as both teams have 26 points though La Passe have a match in hand and they meet bitter rivals Anse Reunion on Saturday.
R.J.L