Seychelles Police Day in pictures
29-September-2012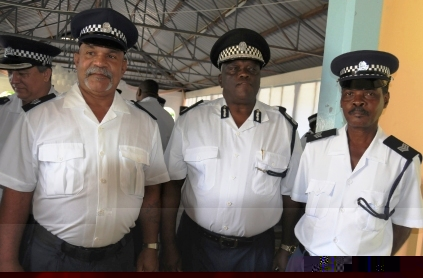 Over the years, activities organised have been peace masses, sports activities, exhibitions, talks at school level, awards and promotion ceremonies to name a few.
Most of those events and activities have been aimed at building a better rapport between the police and the public, which the police will no doubt continue to do until we are satisfied we have attained our objective.
This year's Police Day was launched by police commissioner Ernest Quatre at the Police Academy at Pointe Larue on Friday September 21 in the presence of over 200 police officers. Among the invitees were also the chief of the defence forces Brigadier Leopold Payet , acting commander of the Seychelles Coast Guard Lieutenant Colonel George Adeline and also the Pointe Larue district administrator Julita Adela.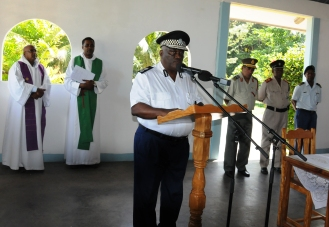 Also present were Father Danny Elizabeth and Father Lonnie Adrienne who were invited to preach the word of Peace and bless the day.
Emphasis of this year's activities and events were on the need for unity and peace among people in the community and society in general.
In his opening remarks to launch the day commissioner Quatre talked a bit about the roles of community policing and the work being carried out by officers from that particular unit whose primary duties are to visit communities, talk to and advise the general public on ways to enjoy community life, and their role in crime combating so as to render their living environment more peaceful and more secure.
On that day where many police officers were mobilised to reach out to the communities.
Commissioner Quatre asked all of them to convince people on the importance of being good neighbours and watch over each others' homes and property. His message coincided with a neighbourhood campaign launched on that day with the theme: Demann ou vwazen pour zet en koudey lo ou lakour ler ou pa la. For that we had posters printed and distributed in all districts. There were also related TV and radio spots.
Another event was the official opening of a new police operations facility for Ile Perseverance, where Mr Quatre reiterated the importance of people living in peace in the community, harmony and to be united in the fight against crime. He called for neighbours not to disturb others with loud music, to keep track on the children's activities and not to let them roam about unattended by adults especially during night time.
Present at this event were Home Affairs and Transport Minister Joel Morgan – who presided over the ribbon cutting ceremony, Minister for Land use and Habitat Christian Lionnet, ruling Parti Lepep's central committee member for Ile Perseverance, Labour and Human Resource Development Minister Idith Alexander, both district administrators – George Nicette and Denise Clarisse – and also some residents. The facility was blessed by Father Edwin Mathiot.
During his address at both the launching of the day and official opening of Ile Perseverance police facility all officers were called upon to demonstrate more professionalism in the performance of the daily duties.
Blood donation and cleaning up at Foyer De Nazareth by officers from the Police Special Support Wing (PSSW) were other activities organised to mark the Day.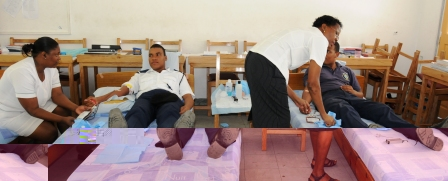 Besides its 999 number for emergencies, and its main command centre number 4288000, Seychelles Police also activated a new hotline through which to report criminal activities.
The number, 133, is for the purpose of receiving information on crimes about to be committed or other offences committed.
The police would like to reassure the general public that caller's identity is barred meaning that officers monitoring the 133 line would be in no position to know who is passing on information to the police.
We are counting on everyone's cooperation to assist in the fight against crime and criminal activities to render our communities and living environment safer and more secure.
Calling 133 is free. Just make a positive difference. Confidentiality guaranteed.
Last but not least, peace messages were also sent over local mobile networks.
Contributed by the Seychelles Police