Retreat with Per Grégoire for "wounded healers"
29-September-2012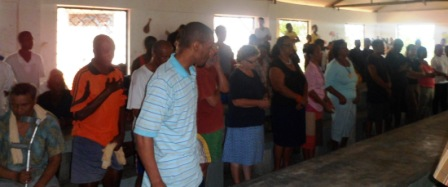 Per Grégoire addressing inmates and members of the Friends of Prisons Association in the dining hall of the Montagne Posé prison
"I have come to visit my God in you," were the words of Mauritian priest and singer, Per Jocelyn Grégoire, as he faced the male inmates of Montagne Posée in their dining room.
"You are all God's children no matter how society sees you and He will never abandon you."
I could not resist joining in when, as if to reinforce his words, the prisoners broke into song.
Excerpts of "Mon anmenn lesperans kot i annan dezespwar", one of the priest's own compositions, punctuated his address.
The visit of Per Grégoire to the prison, on this hot Tuesday afternoon, formed part of the activities organised by the Friends of Prisons Association to bring some spiritual counselling to the prisoners. Looking at their faces, one could feel the yearning for comfort and understanding.
I could see that George (not his real name), an inmate who is a budding musician, felt very proud to accompany the deep eager voices on his guitar. He had the privilege of playing one of Per Grégoire's most popular songs -- Kondwir mwan, vey lo mwan -- as it filled the dining room.
In one of his interventions, Per Grégoire quoted the now familiar verse of Mathew, chapter 25, verses 34-46: "I was in prison and you came to me...When did we see you in prison?...To the extent that you did it to one of those brothers of Mine, even to the least of them, you did it to Me," the Lord replied.
I spoke to the Superintendent of Prisons, Maxime Tirant, after the successful meeting. He told me that events like the one we had just witnessed helped the inmates to cope with their incarceration and guide them to follow a better path.
As a member of Friends whenever I visit the prison I always feel privileged to share the pain and uncertainties of the inmates. Some of them are very young and they do not know what the future holds for them. There are those who are near the end of their sentences but who are already worrying about still other cases for which they are going to be tried.
Before the meeting at Montagne Posée, the Friends of Prisons Association had a weekend retreat at Beauvoir, La Misère, with Per Grégoire. It was at the invitation of Friends that the Mauritius-based priest had come to Seychelles. The theme of the retreat was 'Wounded healer, living with our imperfections'.
"Why this theme?" I asked Per Grégoire, during the tea break.
"We are all in a way broken persons. As wounded healers we feel this yearning to heal ourselves before we try to heal others," he explained.
During one of those healing sessions, one ex-inmate compared life inside and outside prison. He described what he is going through outside as "very hard". He has not been able to work as he was still being judged by society.
"But there is beauty and joy in suffering and I listen to what my Creator says," he added. "As for prison itself, it is hell. When I first arrived there I continued with my rebellious ways, which were with me since my childhood," he said.
"I remember one day Gilles Nageon, chairperson of the Friends of Prisons Association, who did counselling sessions with us inmates, asked me when I was going to love myself. This got me thinking and after a time a change in me crept in without even my realising it. I can now say that the time spent behind bars taught me endurance and discipline."
Per Grégoire spoke passionately about forgiveness and the need not to judge anybody. One of the retreat participants asked: "How can we not judge a mother who hides his son after he has stolen from his victim? Isn't that a clear case of soutire, as we say in Creole?"

During the retreat at Beauvoir, La Misère
Per Grégoire replied firmly with a tinge of annoyance in his voice. It sounded almost like a rebuke. "A mother's love is limitless and she will do anything for her child. Nobody has the right to question that love."
This brings me to a recent session I had with female inmate Debra (not her real name). She had gone to the extreme length of hiding a mobile phone in her cell. Of course, it was subsequently discovered by the prison authorities, and we were now talking about this incident.
"For a while now my child is distressed. She feels that the person who is looking after her does not love her. She is told numerous times that one day she is going to end up like her mother." According to Debra, the child is teased even at school.
"The only way that I can guide her is by speaking to her before she goes to sleep. She sometimes has nightmares and I need to reassure her before her bedtime," Debra told me, trying to justify being in possession of a phone – which is against prison regulations.
"Why don't you ask to speak to her every now and then but do it with proper authorisation?" I asked. She did not answer.
The three-day retreat taught me many things and I can describe it as a personal inner journey that has refreshed me spiritually .
Diana Quatre, a fellow participant, told me that she will remember Per Grégoire's emphasis on the extent of a mother's love for her child for a long time to come.