UN General Assembly-Seychelles determined to contribute positively to UN processes
29-September-2012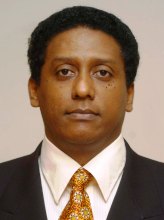 The vice-president spoke of the need for continued action against piracy which "fundamentally alters our relationship with our ocean".
He urged that the improvements in Somalia's political situation be accompanied by an increase in infrastructure investment in Somalia to improve the rule of law.
"We must transform fear and uncertainty into hope and optimism in Somalia itself, as well as in the Indian Ocean," Mr Faure remarked.
In the context of the Seychelles presidency of the Indian Ocean Commission, the vice-president also outlined the efforts deployed by Seychelles to find a solution to the political crisis in Madagascar. Following the confirmation of elections to be held on May 8, 2013, the Seychelles delegation further urged international partners to support the electoral process in Madagascar by contributing in any way possible to their organisation.
Seychelles has consistently provided a leading voice in the defence of island issues, and the vice- president reminded the assembly that respect for the rule of law "is also about ensuring that conditions are in place for equity and fairness in the international system as a whole", and lamented the fact that islands were often peripheral in global decision making processes.
In his remarks he also provided three proposals to better support the development of Sids:
• Debt for adaptation swaps - which would allow Sids to benefit from debt relief in return for climate change adaptation projects, as advocated by the Global Island Partnership, founded by President James Michel and the President of Palau, and co-chaired by Seychelles, Grenada and Palau.
• Developing Sids' economies as 100% renewable energy economies by fast tracking investment and adoption of such technologies, and building on Sids partnerships as championed by the Sids Dock initiative
• Developing a fairer framework to support the trading position of Sids in the global economy.
The vice-president concluded by highlighting the role that Seychelles could play, as Africa's smallest nation, as a non-permanent member of the Security Council to further enhance Africa's fair representation in the UN's political processes, to strengthen African economic independence by investing in African Institutions such as the AfDB, to strengthen the capacity of African states to resolve regional security issues themselves and to better combat climate change.
Vice-President Faure was attending the General Assembly on behalf of President James Michel and was accompanied by the Minister for Foreign Affairs Jean-Paul Adam, newly accredited permanent representative to the United Nations based in New York, Marie-Louise Potter, and Minister Counsellor in the Seychelles mission in New York, Selby Pillay.