Table Tennis: September challenge-Sultan and Bristol clinch September titles
03-October-2012
In the men's final, Sultan came from two sets down to glide past Achille Dodin and win 4-3, while in the ladies' final Bristol easily cruised past Laura Sinon 4-1 to win the title.
The men's division one group attracted eight players who were divided into two pools with the top two from each group qualifying for the semi finals.
After losing the first two sets 6-11 and 9-11, Sultan came back to win the third one 11-8, before again losing the fourth 8-11. Three sets down and with Dodin needing only a set to win the game, Sultan redeemed himself in the fifth and sixth sets which he won 11-7 and 11-6 respectively to tie the match at three sets apiece.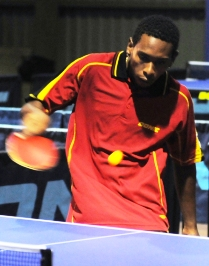 More eager to win, Sultan won the decisive seventh set 11-8 to win the match 4-3 and the September title.
Only three players turned up for the women's division competition which was played on a league basis with the top two finishers qualifying for the final.
In the final, Bristol won the first two sets 11-8 and 11-9 against second-placed Sinon who pulled to within one set by winning the third 11-9. A stronger Bristol, however, managed to get her game back together to win the fourth and fifth sets 11-8 and 11-6 to win the match 4-1.
Stefanie Hoareau finished third in the group.
A total of 12 players registered for the boys' division two competition which started on a league basis with the players divided into two pools before the top two in each pool clashed in the cross knockout semifinals.
Darius Thomas was the group winner after a 3-2 (9-11, 11-3, 11-9, 10-12, 14-10) win over Ross Lai Lam in the final. Mario Lablache finished third.
In the boys' division three competition, eight players registered and they were divided into two groups. Philip Sham Hong was the group winner after beating Dylan Siméon 3-1 in the final. The set scores were 11-8, 11-7, 10-12 and 11-4. Mael Youpa was the group's third best player.
Zahira Khattab was the grand winner in the girls' division two group which attracted six players.
In the final, Khattab beat Annissa Lepère 3-1 (11-6, 11-7, 9-11, 11-6), while Emelyn Quatre finished third.
Only four players were present in the girls' division three group, with Shakira Casquette winning the final on a 3-0 score over Natasha Durant. The set scores were 11-7, 11-7 and 11-4.
Kim Hoareau was the winner of the newly introduced girls' division four group which attracted five players. In the final she beat Emma Bristol 3-1 (13-11, 11-7, 2-11, 12-10). Emma Ah-Wan was third.
R. D.