Cuban team back to finish climate change study
04-October-2012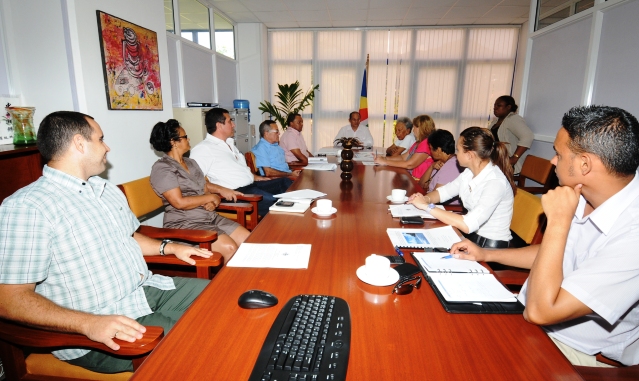 The team met the Minister for Environment and Energy Professor Rolph Payet yesterday at the ministry's headquarters, Le Chantier Mall.
Headed by Herminia Serrano Mendez, the delegation briefed Professor Payet on the study and its latest developments.
Professor Payet said the study originated from President James Michel's state visit to Cuba in 2009 – at a time when Seychelles was facing a lot of problems with coastal erosion.
The result of the study is expected to strengthen institutional capacities to identify and address climate change-driven events that systematically increase the vulnerability of Mahe, Praslin and La Digue.
Even if the study has not been completed yet, Seychelles has benefited from the first phase which includes a set of maps, data and mathematical models tailored for use here.
Minister Payet added that training is an aspect which needs to be built on, as capacity building is important so that local experts can take this work forward.
The main recommendations so far include the regeneration of beaches with natural vegetation, dune recuperation and the removal of inappropriate vegetation of dune such as casuarinas that increase the erosion rate.
In the study, areas of danger by sea level rise for 2025, 2050 and 2100 were identified. Coastal areas with danger of concentration of energy by intense waves were also pinpointed. The airport area is sensible to the coastal flooding by the effect of sea level rise and severe storms.