Communities rally to reward Anse Royale secondary athletes
04-October-2012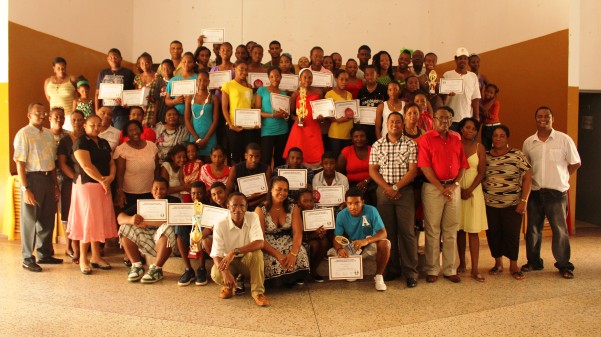 To reward the athletes for their great performances and devotion to their sport, the school, under the leadership of head teacher Fabian Palmyre and tireless coach and teacher Gerish Rachel, received the support of the entire community to organise a very special event this year.
Businesses in the community, parents, district administrators and members of National Assembly of Anse Royale, Takamaka, Baie Lazare and Au Cap, as well as the school came together to organise the event.
The gathering took place on Saturday afternoon at the Anse Royale community centre.
More than 65 athletes form part of the Anse Royale secondary school athletics club which also falls under the district's athletics team. The athletes come from four districts – Anse Royale, Takamaka, Baie Lazare and Au Cap.
During the gathering, the best male and female performers in three categories – under 14, under 16 and under 18 – received trophies, certificates and gifts.
All the gifts, trophies and certificates were sponsored by MNAs of the four districts and this forms part of the 'What is my MNA doing for my school activities' programme.
They were all present to give out the rewards.
Head teacher Palmyre said he is very proud of the athletes and he expressed his sincere congratulations to them all as well as their instructor, Mr Rachel, who is always there to train, guide and push them to do better.
"The athletes from Anse Royale secondary start their preparations very early every year and each year competition with other schools gets tougher and the athletes know that.
We try our best to give them the right preparation and the support they need, and for that I thank Mr Rachel, the parents and everyone for their support and encouragement," said Mr Palmyre.
He noted that being part of the athletics club has not only push the athletes to strive for the best results but has also inculcated in them good self discipline, good behaviour and has helped them to keep away from various social ills affecting the society today.
During the event, which went on until late in the evening, the athletes, parents and other organisers of the event surprised Mr Rachel by presenting him with a trophy for his great achievements and devotion in helping the athletes attain success.
"I was really touched and deep inside I am deeply encouraged by the fact that the pupils themselves, their parents and the community appreciate the effort and good work I do to help the youths," said Mr Rachel, who is not a Physical Education instructor, but a science teacher.
He said every year, in spite of being sad to lose some of his athletes, he is always encouraged by the eagerness and desire to win with the new groups that come up.
"They always give me the strength to continue," he said.
M-A. L.