TEACHERS WEEK 2012-'Act now, make a difference'
06-October-2012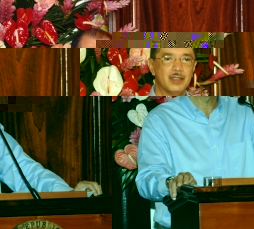 Here, Teachers' Day was this year marked by a weeklong series of activities under the theme Act now, make a difference.
It was officially launched on Monday during an awards presentation ceremony at State House, where long serving teachers were rewarded for their years of dedication to teaching.
Other events included a gospel show hosted by teachers, a professional session to promote the teaching profession among secondary students at S4 and S5 levels, a blood donation drive and other celebrations at school level.
During her launching address at the Awards Ceremony, Education Minister Macsuzy Mondon expressed the ministry's appreciation for the invaluable work teachers do.
"Our appreciation of teachers' valuable contribution to society is boundless and Teachers' Week offers an opportune time for us, as a nation, to honour our teachers for their massive contribution to education and national development. It also provides a good context for our reflection on the teaching profession in our country," she said.
Placing greater emphasis on uplifting the standard of the Seychelles education system, she explained the significance of the theme chosen for this year.
"Every day our teachers are selflessly going about their business of educating our children, so why the theme; Act now, make a difference, for 2012? The answer is simply that we cannot afford to sit back and take everything for granted because, indeed, we have to persevere in the quest to raise standards in our schools. Teachers' skills and experience are vital if we want to provide quality education to our children".
The following are other key excerpt from the minister's address:
Strive for excellence in our schools
"Our national theme for this year is calling on all of us to give our maximum in all that we do, for ourselves and our country. It is also promoting good values, attitude and hard work as a prerequisite for success, among the qualities required to do our work well. Therefore, as we strive for our Seychelles, let us also strive for excellence in our schools."
Teachers play a momentous role in our society
"As we recognise our long serving teachers for their contribution, we also need to remind ourselves of the challenges ahead, of the need for affirmative action and call on all teachers to fully engage in the mission to make a real difference in their students' lives. For teachers will always play a vital role in moulding the young generation of today and in preparing them for the future."
Be a teacher, make a difference
"As we bid farewell to the 10 teachers who are retiring, let us make it our civic duty to seriously consider how each and every one of us can contribute in our own way to help address the teacher recruitment challenges that continue to haunt our nation. We need teachers to teach our children."

We have put in place a strong team at the ministry that is working very hard to address teacher recruitment and retention on different fronts, but we need the support of everyone, as this mission transcends the boundary of one ministry."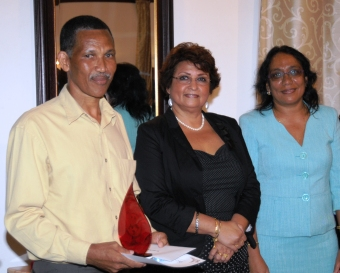 Message for teachers from UN heads
The following message was sent to all teachers on World Teachers' Day, October 5, 2012 by the heads of the United Nations Educational Scientific and Cultural Organisation, the United Nations Development Programme, the United Nations Children's Fund and the International Labour Organisation.
On this World Teachers' Day, we take a stand for teachers. Teachers are the foundation of good schools, and good schools are the pillars of healthy and democratic communities.
Teachers are the keys to reaching the Education for All goals.
An estimated 1.7 million more teacher positions are required to reach the goals of Universal Primary Education by 2015. As we recruit new teachers, we must continue to improve the quality of teaching and learning. Governments are urged to provide teachers with access to training opportunities and continued professional development, based on appropriate qualifications.

Attracting committed and diverse teachers requires environments that value professional autonomy and equality. Teachers need to be supported in fulfilling their responsibilities to students, and their voices must be listened to by school leaders, education systems and public authorities.

Teachers' salaries must be set objectively and fairly, such that remuneration is commensurate with the importance of the profession and the qualifications and responsibilities of individual teachers.
Teachers, in turn, must be accountable to their students and communities. The teaching profession is encouraged to design and implement teacher codes of conduct, based on the highest ethical and professional standards, and to be oriented around the goal of teaching all students effectively and equally.
This World Teachers' Day is an opportunity to honour the women and men who inspire, challenge and nurture us. On this day, we call for the creation of supportive teaching environments, adequate teacher training and safeguards for the rights of teachers.

We must break the vicious cycle of declining professional conditions for teachers in order to improve the quality of learning for all. The world expects a lot from teachers – they, in turn, are right to expect as much from us. This World Teachers' Day is an opportunity to take a stand for all teachers.