New website for land use and housing
08-October-2012
The website www.luh.gov.sc was launched on Friday by the Minister for Land Use and Housing Christian Lionnet at the Independence House in the presence of acting principal secretary Yves Choppy and staff of the ministry.
Mr Choppy said the website will ensure easy access to information and will keep people up to date with the latest developments.
An exhibition was also launched on Friday and members of the public viewed projects and work being done by the ministry as well as acquire information regarding land use and housing in Seychelles.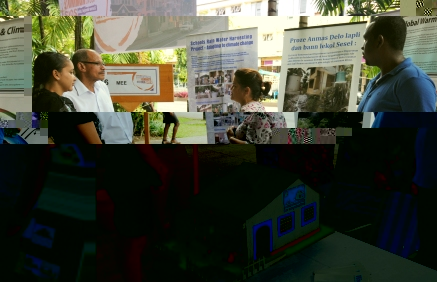 Both activities were part of the World Habitat Week which was celebrated under the theme 'Changing cities, building opportunities'.
In the local context, the ministry adopted the theme Loportinite pour en nouvo kominote.
Mr Choppy said the theme is aimed at helping us reflect on new ways our communities meet our social and economic demands.
He also briefed those present on the future projects to be carried out by the ministry and these include access to the webGIS service on the newly launched website.
This service will help professionals working in the construction and planning areas to give members of the public quality work.
Digital planning submission is another project which will allow people to submit their planning applications via the internet. This will help reduce the time it takes to process applications and help the management to better supervise the performance of agencies involved in this process.
Mr Choppy added that the ministry will continue to find ways to improve the services it offers.