New appraisal system for teachers' progress
08-October-2012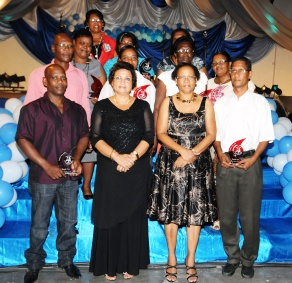 This was announced by the Minister for Education Macsuzy Mondon during an award ceremony at the National Sports Council hall, Roche Caïman, on Saturday as part of the activities for this year's Teachers' Week.
Environment and Energy Minister Professor Rolph Payet and the Minister for Labour and Human Resource Development Idith Alexander were among the guests at the ceremony.
Minister Mondon said the appraisal system will put emphasis on teachers' professional development and lifelong learning.
"For those teachers who have been lagging behind and not keeping abreast of developments in teaching and education in general, your time to act is now, or you could run the risk of being left behind altogether. In a world where old knowledge becomes obsolete at the same rapid rate that new knowledge is being created, our students, our schools, our education system and our society at large cannot afford to have teachers who are stuck in time and cannot challenge our students," she said.
"Therefore, I trust you will rise to the challenge and prove to our nation that you can use all available opportunities and experiences to become the best that you can be, for the good of your students and the future of our country."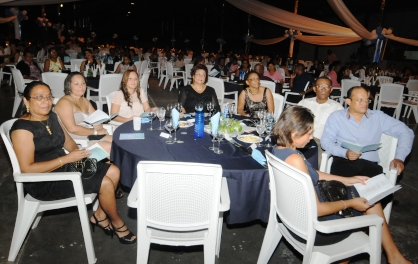 This year marks the 22nd Teachers' Day celebrations, and the theme is 'Act now, Make a difference', and Minister Mondon said they acknowledge the efforts teachers are making, but they have not reached their target and need to persevere in their quest for quality education.

"While our ministry is working very hard and doing its utmost to create an enabling environment and to enhance teacher recruitment and retention, we also need the support of everyone in order to achieve our targets. We need the youth to take up teaching as a career, and our teachers are the best ambassadors for the teaching profession because they are the front-liners to whom students, all of whom can be potential teachers, are exposed to daily," she said.
She also noted that their appeal to strengthen partnerships for success in education has echoed beyond the borders of the school, and today the community is becoming increasingly more involved in education.
Among the entertainment for the night were a gospel show by the Teachers' choir and songs from various schools. There was a testimony by student Naomi Evenor from Pointe Larue secondary, recounting her experiences as a student.
There were also awards for schools that have hosted different activities for Teachers' Week and for members who have been working with the Teachers' Week organising committee for over 10 years.
There were also prizes for members who have notched up more than 10 years with the teachers' choir.
The night continued with dinner, entertainment and a dance.