Barclays gives help to healing centre for drug addicts
11-October-2012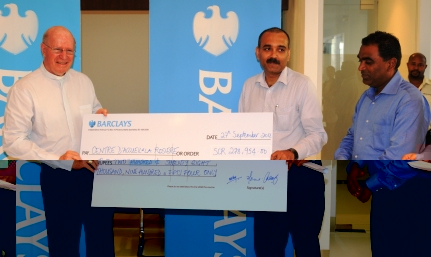 The cheque was handed over to the Car board chairperson Bishop Denis Wiehe recently at the bank's Premier centre located on the ground floor of the Capital City building.
Barclays staff took part in a sponsored walk recently to raise the donated sum and several sponsors responded to the cause.
The bank then doubled the amount raised by the staff and the sponsors.
Present at the handing over ceremony were the chairperson of the bank's board Lee Weeling, managing director Rakesh Jha and staff, director of Car Gerard Julie and sponsors.
Bishop Wiehe thanked Barclays Bank for its contribution which he said will be of great help to Car.
Mr Jha said the event is one with high significance and that the bank is happy to support such cause.
He also thanked all staff who took part in the sponsored walk and all the sponsors who have contributed to help raise the fund.