Globetrotter celebrates 100th country world tour in Seychelles
13-October-2012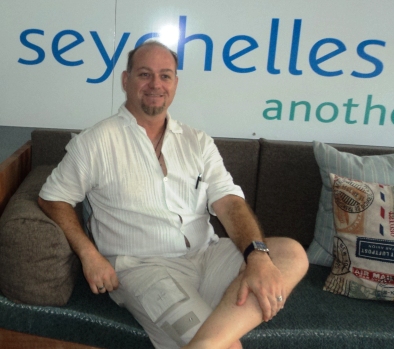 On Wednesday this week, the Peruvian-born Italian arrived in Seychelles – the 100th country he has visited in his quest to fulfill his dream and his passion for travelling.
"Coming to Seychelles has always been part of my dream but I had always said to myself that I will reserve that destination for my own honeymoon because all I know and have heard about Seychelles is that it is a place for honeymooners and a romantic getaway for couples in love. But unfortunately for me I have not yet found real love so I said why not go there and celebrate the 100th country stop," Mr Ferrari said excitedly.
Born to Italian parents in Peru 52 years ago and arriving here from Dubai only a few days before his 52nd birthday, Mr Ferrari said he is overjoyed to be in such an idyllic place like Seychelles.
A specialist in tourism marketing, Mr Ferrari also work as a travel consultant with a lot of opportunity to travel the world between different jobs.
Meeting him at the Tourist Information Office in Victoria a day after he arrived here, he had no words to describe his innermost sentiments on finding himself finally here.
"But I love what I have seen so far, the greenery, the warmth and charm of the people, their friendliness and I am really looking forward to enjoy and make the most of my stay here," said Mr Ferrari, who will be in Seychelles until October 19.
Mr Ferrari is spending this weekend on La Digue.
"I am dying to splash in the most beautiful sea of Anse Source d'Argent and dig my toes in this wonderful white sand and stroll on this sandy beach which until now has been a faraway dream,'' he said, while pointing to the mentioned beach on a picture adorning the wall of the information office.
Mr Ferrari admitted that probably he has been too busy travelling the world that he has not had time to look for love and start a family.
"I have been so busy and travelling is my passion. I also have a passion for the geography and history of other countries and I love painting too," he said.
Mr Ferrari said his flat in Trento, Italy resembles an art gallery with photographs and paintings he has made of all his travels.
"I have visited China five times and India five times too and each time I have enjoyed them more and more and made new discoveries," noted the globetrotter who also revealed that he has visited 22 of the 52 states in the United States of America.
The happy traveller admits that his mother was the one who inspired and urged him to discover the world and fulfill his dreams.
Abandoned by his father at the tender age of one and a half years, Mr Ferrari said he left Peru in 1986 to go back to Italy.
"I am happy with my life and I intend to come back to Seychelles if I enjoy my stay here and who knows maybe my next visit will be on my honeymoon," he joked.