Ironman World Championship in Kona, Hawaii-Baldwin 18-24 years category runner-up
16-October-2012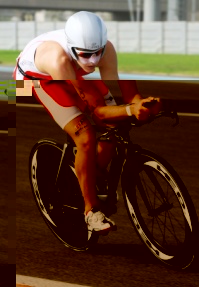 In tough conditions, with strong swells in the sea, relentless headwinds on the bike and high temperatures, Baldwin finished with a cumulative time of 9 hours 13 minutes 39 seconds (9h13:39) to also take 40th place overall which is a huge improvement on his last year's overall placing of 108th.
His split times were 59:23 in the 2.4 mile swim, 4h56:09 in the 112 mile bike race, and 3h09:47 (PB) in the 26.2 mile run for a final time of 9h13:39 (including transitions).
"People say that the conditions made it the toughest race since 2004. Despite a four-minute drafting penalty on the bike, I finished 5 minutes faster than last year, which on a day where most athletes were 15+ minutes slower than usual, shows the improvement I've made over the last 12 months," Baldwin told Sports Nation.
He came out of the water in 11th place in his age-group and biked his way into the top three. His biggest improvement came on the run, where he made his way from third place to second with a personal best time of 3h09:47 – 9 minutes faster than last year's 3h18 split time. Baldwin said he had to dig deep in his reserves in the last 8 miles of the run as he really started to suffer.
"This caps off a hugely successful season, which included the Ironman 70.3 World Championship title, and I have proved to be one of the top amateur triathletes in the world," added Baldwin.

"This would not have been possible without the support of Eden Island Marina, Hunt, Deltel & Co Ltd, Vijay Construction and Cable & Wireless. I am extremely grateful for their commitment in helping me achieve my results this season," noted the triathlete.
Australian Matt Burton won the 18-24 age group division with a cumulative time of 9h01:27 (1h00:49 in the 2.4 mile swim, 4h52:22 in the 112 mile bike race, and 3h03:43 in the 26.2 mile run).
The women's senior champion is Leanda Cave of Great Britain with a time of 9h15:54. She was followed in second and third places by Caroline Steffen of Switzerland (9h16:58) and Mirinda Carfrae of Australia (9h21:41).
In the men's senior race, Australian Pete Jacob took the title in a time of 8h18:37, finishing ahead of German Andreas Raelert (3h23:4) and Belgian Frederik Van Lierde (8h24:09).
G. G.