Innovative ways sought to boost prevention of NCDs
20-October-2012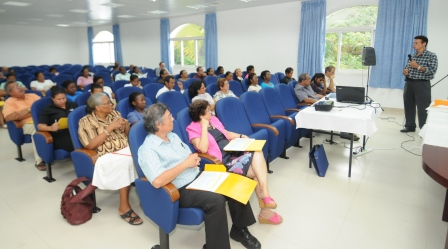 In order to dynamically move the process of developing a national strategic framework for the prevention and control of NCDs ahead, a high level technical committee of the main stakeholders from various sectors of government and the civil society will be set up.
The meeting's afternoon session Thursday saw serious debate on the committee's membership and some delegates argued that there should be more of a community-based approach with a maximum involvement of non-governmental organisations (NGOs).
Opening the gathering at the Sheikh Khalifa conference room, Health Minister Mitcy Larue said NCDs, particularly cardiovascular diseases, cancer, chronic pulmonary diseases and diabetes, have become the leading causes of death in Seychelles and in most other countries.
She noted that besides their impact on human lives in terms of suffering, these conditions have important economic and social consequences.
Ms Larue noted that it is now a well-established and researched fact that four unhealthy behaviours, notably tobacco smoke, lack of physical activity, unhealthy diet and excessive alcohol consumption, account for a large proportion of these main NCDs.
She said Seychelles has been very active in the prevention and control of NCDs. Most notably, a comprehensive legislation on tobacco control has been enforced and policies also exist to promote healthy diet in schools and encourage physical activity for all.
At the individual level, she added, health care for NCDs, including all essential medication for hypertension, cholesterol and diabetes, are available at no cost to patients in all health centres.
Ms Larue noted that while with time we have noticed positive trends in some NCDs and their risk factors have improved, notably the decrease in tobacco use being linked to the prevalence of hypertension, unfavourable trends are also taking place, such as a marked increase in obesity and diabetes.
"These unfavourable trends are worrisome and may imply that our children will have lower life expectancy than their parents, unless these trends are reversed. The rapid ageing of the Seychelles population is also a powerful engine to fuel the burden of persons with chronic diseases in the next decades."
The health minister said that because the roots of the NCDs lie within the way our society is organised and our behaviours are shaped and influenced an appropriate public health response must correspondingly involve a number of diverse interventions across many sectors of our society, which is commonly referred to as the "whole of government" or "whole of society approach".
Ms Larue told delegates that their task is challenging as changes in factors that drive behaviours of the population imply deep changes at all levels. For example, measures to improve physical activity in the population may legitimately aim to promote public transport, bus lanes and safe sidewalks, but these measures will inherently limit space for private cars in the context of limited and constrained space available in our small country.
Similarly, reduced consumption of sugar, soft drinks or fatty food, implies major changes in the way we produce, advertise, tax and market foods at all levels. Important resistance may be expected from various sectors.
Besides all government ministries, national efforts for the prevention and control of NCDs, have also enlisted the support of several NGOs, such as Cancer Concern, Care, Diabetes Society of Seychelles, Drug and Alcohol Council and the Fair Trading Commission.