OFFENCES UNDER THE CUSTOMS MANAGEMENT ACT (CMA) 2011 (PART 2)
22-October-2012
The first article covered offences with regards to bribery and collusion, threatening or resisting Customs officer and Counterfeit seals or marks.
This week we will look at offences under unauthorized access to or improper use of customs computerized entry processing system, aiding, abetting, counseling or procuring and failure to produce book, records or other documents and data.

It is the role of agents, importers and exporters to self assess the correctness of the transactions before it is communicated to Customs. As an agent, importer or exporter you are legally responsible for the accuracy of information supplied to Customs and your obligation is to trade within the requirements of the law.
The CMA 2011 contains certain specific offences and, if committed attract specific fines and penalties. Moreover Customs has the power to seize and forfeit merchandise, and impose monetary fines.
The following are the offences under the CMA 2011: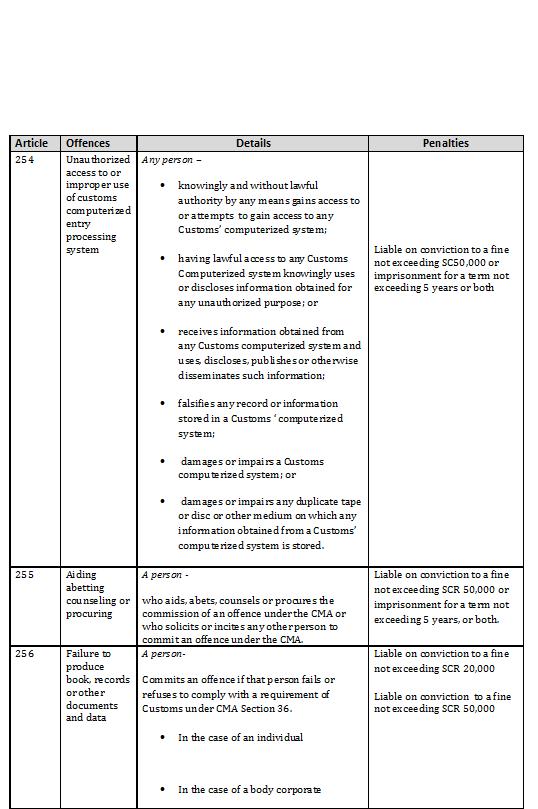 For more information
You can contact Seychelles Revenue Commission on 4293737 or email us at This email address is being protected from spambots. You need JavaScript enabled to view it. for more information about the CMA 2011. The Act is available on the Seychelles Revenue Commission website (www.src.gov.sc). Note that the Customs Management Act (CMA) 2011 is being implemented since the 1st July 2012