Annual Microsoft Partners in Learning Middle East and Africa Forum-Celebrating innovation in education
24-October-2012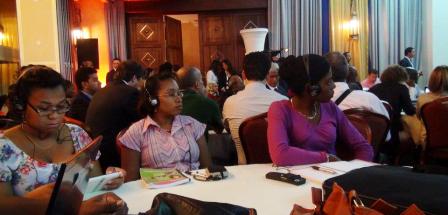 Microsoft hosted its annual Partners in Learning Middle East and Africa Forum from September 27 – 29 in Marrakech, Morocco bringing together several hundred leading educators, school leaders, and education officials from more than 25 countries in the region, including Seychelles.
This year's event was held under the patronage of Mohamed El Ouafa, the Minister for National Education.
The Partners in Learning Forum is designed to promote and share innovative teaching practices using technology in the classroom and to offer collaboration opportunities with peers across the Middle East and Africa. By hosting the event, for two days Morocco became a hub for innovative education in the region.
The Forum in Marrakech presented education professionals with a unique chance to participate in the hands-on workshops and showcase school and educator projects in the exhibition.
They also listened to a series of guest speakers from technology and education sectors, including the Country Manager for Microsoft Morocco, Samir Benmakhlouf, and other selected speakers.
Following the local Seychelles Partners in Learning Forum, three educators were selected for their innovative ways of integrating ICT to their teaching and in their classroom. These three Seychellois educators presented their projects at the Middle East Africa regional forum, and shared best practices with their other fellow educators.
Natalie Duval from Beau Vallon secondary school came first for Seychelles 2012 Partners in Learning Forum. Her project 'Piracy: Historical Past, Present Threat, Future Consequences' aimed at integrating the use of various ICT resources within the History National Curriculum, especially at the S2 level which is mostly dealing with the History of Seychelles.
Two other educators also represented Seychelles. Teaming up, Elvina Brutus and Lynn Albert, from Anse aux Pins primary schools, showcased their project 'Introducing numbers through creative activities'.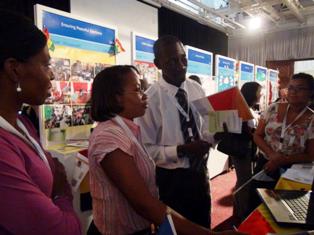 Through this project, they aimed to better develop pupils' understanding of the concept numbers and their quantity by incorporating different activities through technology devices.
The Middle East Africa Partners in Learning Forum is an annual showcase event whereby the most innovative teachers from our island can meet, exchange and connect with teachers from all over the region.
Tomorrow's leaders in the Middle East and Africa need access to technology to gain the modern skills necessary to tackle the business challenges of the future. Educators are a major influence on student success, and we need to equip every educator with the tools and resources to transform their approach to education. The Partners in Learning program directly reflects Microsoft's commitment to support the future of the region by providing educators with tools and resources.

Partners in Learning provides a platform for collaboration in 37 countries in Middle East and Africa, and this year's Forum in Marrakech was an opportunity to celebrate the best teaching achievements within this community, and encourage educators to engage and work together towards an even brighter future.
As in previous years, an individual and group competition for the most innovative teaching projects in the Middle East and Africa concluded the Forum.
A select number of innovative pathfinder schools as well as winning educators will have the opportunity to represent their country and the region in the Partners in Learning Global Forum from November 28 to December 1 2012 in Prague, Czech Republic.