Agricultural fair a boost to home-growers' morale
27-October-2012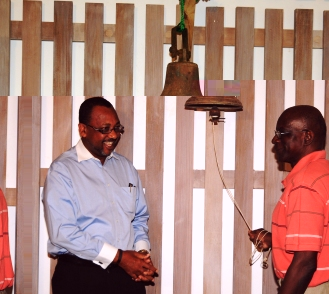 The ceremony took place at the Le Meridien Barbarons Hotel in the presence of Vice-President Danny Faure, Minister for Fisheries and Aquatic Resources Development of the Socialist Republic of Sri Lanka Dr Rajitha Senaratne and members of his delegation who are here on an official visit, and other local ministers.
Also there was the chairperson of the organising committee of the Tonbola Antoine-Marie Moustache, Leader of the Opposition in the National Assembly David Pierre, members of the National Assembly (MNAs), sponsors, contributors and other guests.
Mr Sinon said the idea for the Tonbola was brought forward by the Minister for Land use and Habitat Christian Lionnet together with the MNA for Grand Anse Mahe Lenny Lebon.
"They shared their idea of hosting the agricultural fair with us and we literally took it to the world and our partners," he said, adding that the fair is a cooperative approach "towards actions of significance" and "national efforts towards the revival of the food sector".
Mr Sinon said his ministry is committed and focussed on improving national food security and providing Seychellois with a choice of locally home-grown food as well as give home gardeners support regardless of space available to households.
"This Tonbola provides only a glimpse of possibilities of a renaissance," he said.
Mr Moustache explained that the fair is dedicated to Mr Belmont who made his debut in the agricultural sector and contributed to its past achievements.
He thanked all sponsors and contributors including but not limited to the Ministry of Finance, Trade and Investment and that of Culture as well as the Small Enterprise Promotion agency (Senpa), the Seychelles Agricultural Agency and more than 50 groups and individuals from the western districts of Port Glaud, Grand Anse Mahe, Anse Boileau and Baie Lazare who responded to the call of the organising committee to take part in the fair.
Launching of the Tonbola Lagrikiltir Grand Anse Mahe was also the opportunity for four memorandum of understanding (MoU) to be signed.
This was between the corporate programme of the Global Environment Facility (GEF) – the Small Grants Programme (SGP) – and local non-governmental organisations with a total of $300,000 worth of grants which cover five GEF thematic areas, namely biodiversity, climate change, conservation of international waters, chemicals management which includes Persistent Organic Pollutants (POPs) and prevention of land degradation.
Three of the four grantees to sign the MoU – Les Mamelles Heritage Association, Val D'Andorre Farmers Association and the Island Conservation Society – each got $50,000 for their respective projects while Sustainability for Seychelles received $150,000 for theirs.
After the official launch, ministers and guests were invited to visit the fair which was already bustling at the Grand Anse Mahe playing field.