Seychelles and Sri Lanka eye bigger maritime gains
31-October-2012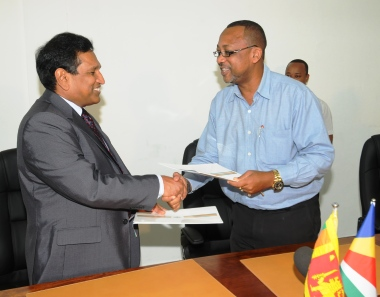 The drive to cooperate further with Sri Lanka "which has a wealth of experience in the maritime sector" comes only months after – and was triggered by – the recent visit to that country by President James Michel and his delegation, said the Minister for Natural Resources and Industry Peter Sinon.
He was speaking after signing a memorandum of understanding (MoU) for closer ties in the sector with his counterpart, Sri Lankan Minister for Fisheries and Aquatic Resources Development Dr Rajitha Senaratne, in a ceremony at the Maritime Training Centre at Providence.
"The signing and the expected outcome are no doubt the result of President Michel's visit to Sri Lanka, all the work he and his delegation did there and his vision," said Mr Sinon.
He noted that just as Dr Senaratne observed about President Mahinda Rajapaksa, Mr Michel also shares the vision of strengthening ties with all the island nations in the Indian Ocean.
"Since we assumed presidency of the Indian Ocean Commission, we've played an active role in the region for example on issues touching on Madagascar and others raised at the meetings of the Southern African Development Community which we have been attending regularly," said Mr Sinon.
There is a more dynamic and higher level representation in regional activities showing that Seychelles is not insignificant and that we are a very busy and very visible player in the region.
He said other ministers and top officials are following up on Mr Michel's visit, and he was happy Dr Senaratne and his delegation have come over to Seychelles.
He expressed confidence that similar moves will follow with other ministries as an offshoot of the base Mr Michel has laid with various countries.
Mr Sinon said there are many areas in fisheries that have not been fully exploited between the two countries, saying for example Sri Lanka has certain kinds of fish that Seychellois treasure like the red snapper which is not eaten in that country and others like sword fish which we resort to only when other kinds are not readily available but are considered a delicacy in the Asian nation, adding we could trade such.
He noted that the global trend now is to stop discarding at sea non-targeted fish and to bring to shore entire catches and make use of them.
Dr Senaratne said our chance to exploit maritime resources are much better because our sea is very vast compared to the relatively small area Sri Lankan fisheries thrive on.