ACP meeting in Brussels -Creole people seek to unite
03-November-2012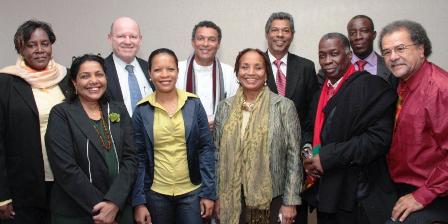 The diversity of countries and departments that proudly today speak Creole surprised everyone and it was proposed at the end of this first meeting that a follow-up meeting where all Creole speaking countries would be invited will be held in Cabo Verde early in 2013.
Present at this first meeting called and chaired by Mario Lucio of Cabo Verde were Minister Alain St Ange of Seychelles, Chettandeo Bhugun of Mauritius, Charles Aklbode of Cabo Verde, Diane Haylock of Belize, Sydney Bartley of Jamaica, Altagracia Reges of Dominica. Minister St Ange was accompanied at the meeting by the principal secretary for Culture Benjamine Rose and special adviser for Culture Raymonde Onezime.
The different Creole events already being organised by the different countries was also raised during the discussions. Cabo Verde and Seychelles tabled their own annual Creole festivals as examples.