Mancham to become Honorary Councillor of World Future Council
03-November-2012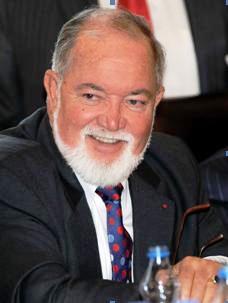 The World Future Council consists of up to 50 respected personalities from all five continents. They come from government, parliaments, the arts, civil society, science and the business world. Together they form a voice for the rights of future generations. The World Future Council is a charitable foundation dependent on donations and have staff working in Hamburg (Head Office), Brussels, London, Washington D.C. and Johannesburg.
The World Future Council helps policy and decision-makers bridge the implementation gap between the 'politically realistic' and the scientifically and humanly necessary. The WFC holds hearings with policy-makers worldwide and provides legislative assistance on national 'best policies' and international agreements. Thus, the WFC offers not just 'early warnings' but also 'early solutions.'
The WFC Management Board is chaired by Jakob von Uexkull – who in 1980 founded the Right Livelihood Award, which is often referred to as the 'Alternative Nobel Prize.' He is a Patron of Friends of the Earth International and a member of the Global Commission to Fund the United Nations. In 2005, he was honoured by Times Magazine as a European Hero. Among many other honours, he was awarded the Order of Merit First Class of the Federal Republic of Germany in 2009.
In a letter e-mailed to former President Mancham, dated October 30, 2012, Alexandra Wandel – Director of the World Future Council Foundation states – "We have created the WFC Honorary Council for outstanding personalities who are expected to be too busy to constantly participate actively in the work of the WFC, but who can provide valuable advice and guidance."
Among the current list of Honorary Councillors are – Dr. Ahmed Djoglaf, former Executive Secretary, Secretariat of the Convention on Biological Diversity (CBD) – Gertrude Mongella, former President of the Panafrican Parliament – H.E. Arthur Robinson, former President of Trinidad and Tobago – Patrus Ananias, former Brazilian Minister of Social Development and the Fight against Hunger, and Olivier Giscard D'Estaing, President of INSEAD. The late Professor Dr. Wangari Maathai of Kenya who founded the Green Belt Movement, and who died last year, was also an Honorary Councillor of WFC.
Mr Mancham said that he felt greatly honoured in becoming a Honorary Councillor of the WFC. "The WFC work is built on the conviction that shared values exist across cultures: we all want trust and respect, freedom from violence and a healthy environment for ourselves and future generations. The challenges we now face require a global response. Decisions taken today have longer term impacts than ever before," Mr Mancham stated.
"Most of the visions of the WFC appears to be shared by the Government of Seychelles led by President Michel," Mr Mancham added.