Golf-Charlie Morin wins October Barclays mug
03-November-2012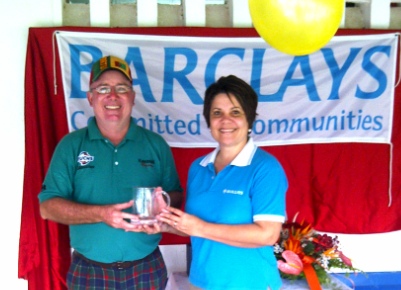 Morin, who is current Seychelles golf club president, carded a fine gross 36 on the front nine but pulled away on the back nine with a tremendous 1 under gross score of 33! Playing off a 4 handicap, Charlie's net score of 65 bettered the par for the course by 3 strokes.
The tournament was played under the medal stroke play format
Second place was earned by another veteran golfer, Alix Esparon, who shot a commendable net score of 67. As the only lady player on the day, Françoise Jouvet, playing off a 25 handicap took the honours of third place with an even par net score of 68.
Colleen Morel, head of corporate affairs at Barclays Bank (Seychelles) was on hand to present Morin, who has a mantelpiece full of trophies from countless victories over the years, with yet another crystal mug.
Barclays Bank (Seychelles) remains a long standing, faithful supporter of golf on the islands covering many years of partnership with the Seychelles golf club.