Volleyball-Sandra Joseph out for rest of season
03-November-2012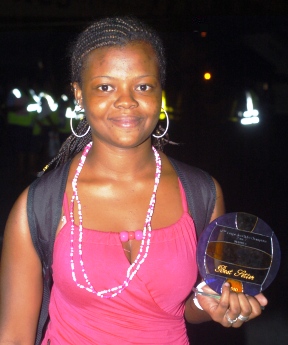 "I'm not sure for how long I'll be out, but I'm definitely going to miss the rest of the season," Joseph told Sports Nation.
The 24-year-old setter added that she is to receive a preliminary report on the condition of her knee on November 14 and only then will she know if she will need an operation.
Joseph sustained the injury just before the start of last Saturday's Seychelles Volleyball Federation (SVF) Cup quarterfinal encounter against Juniors.
"I had just finished warming up and was walking to the substitutes' bench when I heard a 'pop' sound. I was in pain and had to be transferred to the English River health centre. I was admitted to the Seychelles Hospital for two days," added Joseph.
The injury must be quite frustrating for Joseph as she will miss this month's Indian Ocean Club Championship (IOCC) in Madagascar and because the new injury is the same knee orthopaedist Danny Louange operated on in November 2007.
This might spark fears of a major problem for the 24-year-old, but she has said she is determined to come back to the game.
"I'm determined to get healthy and play again," noted Joseph.
Joseph's absence will also rob coach James Camille of a major component of his squad and this provides the new Cascade boss with a major headache as the team look to win the IOCC this year.
Voted IOCC best setter in 2010 in Mauritius, Joseph, who has been a Seychelles international since 2006, was part of the team who won the Indian Ocean Island Games gold medal on home soil in 2011.
G. G.