Winners of Expo 2020 Arts contest rewarded
05-November-2012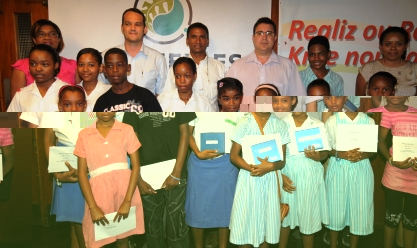 Young people under 18 years old were invited to depict their vision of Seychelles in the year 2020 through writing, drawing and photography.
A large number of students took part and their thoughts and ideas were described as amazing by Ambassador Barry Faure, who is the chairman of the Seychelles 2020 presidential commission and the 2020 development company.
Mr Faure was speaking at the prize-giving ceremony for the competition – held on Friday at the International Conference Centre – during a gathering to launch a tender for a hotel development on Ile Soleil.
The event was attended by the Minister for Finance, Trade and Investment Pierre Laporte, Minister for Land Use and Habitat Christian Lionnet, principal secretaries, chief executives and other high government officials.
Mr Faure said the jury could see the blending of nature, culture and education in almost all the works produced, and thanked all those who took part in the nation-wide event.
"The young artists have excelled in their work and we congratulate them, and we intend to publish the works of the winners in a book that is under preparation on the Seychelles Vision 2020," he said.
In the writing competition, in the 4-7 years old category, the first prize was won by Emilie Romain from Anse Etoile primary, second prize by Raphaella Finesse from Anse Royale, and Alesha Melanie from Bel Eau.
In the 8 to 13 years old category, first prize was clinched by Frazer Nallemtamby from Bel Ombre primary, second prize was taken by Damian Ally, and 3rd prize by Mikaella Valmont.
The 14 to 18 years class had Charbella Rath from Pointe Larue secondary walking away with the top prize, Axelle Bodwell from English River taking second prize and Naomie Nibourette settling for third.
In the drawing competition, in the 4-7 years old category, first prize was clinched by Gracy Vel from La Retraite primary, whose work is entitled More technology in the country.
The second prize went to Gaelle Mounac, also from La Retraite, with Nou lakonplisman, while third prize was won by Elsha Ally from Bel Ombre.
In the 8-13 years category, first prize was taken by Estelle Lepathy from Anse Royale secondary, second prize by Fawza Dugasse and Ina Pierre from English River, and third prize won by Saubina Hoareau.
It should be noted that there were no entries for the photography competition.