Bid opens for tourism project on Ile Soleil
05-November-2012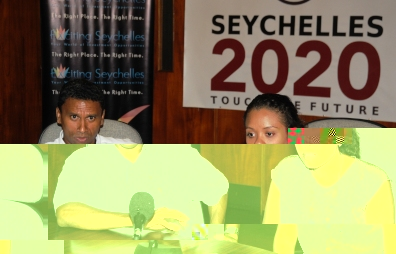 Held at the International Conference Centre, the tender was officially launched by Ambassador Barry Faure, who is the chairman of the Seychelles 2020 presidential commission and the 2020 Development Company.
This was in the presence of Finance, Trade and Investment Minister Pierre Laporte, Minister for Land Use and Habitat Christian Lionnet, principal secretaries, chief executives and other high government officials.
Created by the government in 2010, the 2020 Development Company is mandated to implement the various projects on the island and will raise funds from the sales of the properties for the development of infrastructure and utilities on the island.
Last month, the Seychelles Investment Board (SIB) was contracted to do the promotion and marketing of the hotel development of Ile Soleil.
Addressing the guests at the tender-launch ceremony, Mr Faure said developments on Ile Soleil need to be based on nature.
"The tourism project on Ile Soleil needs to be nature-based. We need to ensure that the environment is respected at all times, even during the design phase, through to the construction and post-occupancy stage," he said.
"We need to bring in technologies that would help us move away from the use of fossil fuels, which are so detrimental to the environment. We also need to look at ways to minimise our impacts, as human beings, on the environment. So, sustainable developments in all its forms are vital."
He added that development there also needs to be culture-based, and architectural guidelines and codes of conduct for the island will ensure that our cultural heritage is preserved and that the Seychellois way of life is enhanced on the island.
"Education and civic education are the right tools to impart knowledge regarding responsibility, rights and moral values. Ile Soleil is set to nurture responsible living, peaceful and stable neighbourhoods, and positive living values."
In a press conference afterwards, Ambassador Faure and SIB chief executive Sherine Renaud said Seychellois investors are being invited to take part in the hotel project or to enter into a joint venture with a foreign partner, and that the investment opportunity is more in favour of a Seychellois investment.
"Yet, we are not closing the door to a 100% foreign investment, since, at the end of the day, this project needs to succeed and it will only succeed if there is participation and if adequate financing is raised from the sale of freehold or leasehold properties," said Mr Faure.
"By July next year, we expect to see construction start on infrastructure and utilities installed such as water, electricity and sewage on Ile Soleil. Those who get their plots of land for whatever development have 24 months to complete their projects, as this is the time-frame set for them to finish their construction."
Mrs Renaud said tender documents are available for purchase at the SIB as from today at R5,000 for local investors and US $500 for foreign investors.
"We will have a pre-bidding meeting on Friday November 23 for all interested parties and all those who have bought tender documents and the event will clarify all issues or answer questions that they might have," she said.
She added that the tender will officially close on January 10.