MCB launches individual credit cards
06-November-2012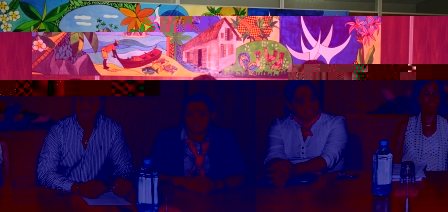 Speaking about the new product, MCB managing director Jocelyn Ah-Yu said the individual credit card will provide clients with a lot of financial flexibility and convenience.
"With a growing number of merchants accepting cards, it is clear that electronic banking is becoming more and more popular. We are today revolutionising the way people pay for their goods through increasing financial flexibility," said Mr Ah-Yu.
"The card will also help increase the spending power of ordinary Seychellois who will now be able to make desired purchases without having to take loans," he added.
Mr Ah-Yu said with the credit card a customer now has access to immediate cash for large purchases or withdrawal of cash with the possibility of paying at a later date with the option of paying at a rate which is suitable to his budget.
Clients with both current and saving accounts are eligible to the classic credit card which is for clients with a minimum income of R8,000 per month and the gold credit card is for clients with an income of above R25,000 per month net of tax.
Lindy Monthy, MCB's retail business manager, said the bank has around 18,000 individual clients and on the launch of the individual credit card, it will be handling applications as and when clients requests for the cards.
Clients applying for the card will have to go through an internal assessment to determine his or her credit limit, i.e. the amount of credit the bank will make available to him or her to spend on the card. Other aspects to consider include the last three months salary, the level of indebtedness and good maintenance of account.
MCB's marketing and communication manager Muriel Morgan said MCB today is answering a call to offer more financial freedom and choice to customers.
She said when they apply for their cards the customers will receive free advice on how to optimally use the card and tips on how to make wise choices with the card.
Mr Ah-Yu said the individual credit card is a revolving card where the customer himself monitors his expenses. For instance, if a customer has a limit of R10,000 and has used R8,000 as he reimburses he builds up his capacity to borrow again on this credit and does not have to go to the bank.
Furthermore, he explained that the MCB credit card allows customers to join over 102,000 MCB credit cardholders in Mauritius, where MCB has the majority market share of cards.
The MCB credit card is a chip card. This means more security as only the PIN code can be used for purchases on the card.
Unlike loans applications where clients have to wait several days or weeks, application for a credit card takes only a few days.
Mrs Morgan said MCB staff are already well-versed in the card system and its features and some of them are already using it so they are well placed to provide clients with all the information they need.