Up-Close … with poet Reuban Lespoir-'Poetry is my destiny'
06-November-2012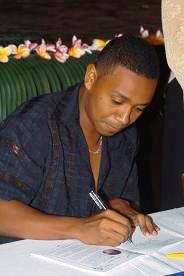 During his childhood, he was a timid boy and according to him, he did not achieve much in his life back then as he was never interested in taking part in activities, especially at school level. He described himself as being 'invisible' back in those days.
But all this was set to change when Reuban joined the National Youth Service (NYS). The little timid boy who did not achieve much during his childhood became a star among his colleagues and is now a young talented poet.
Reuban…
The Capricorn-born poet, a resident of Les Mamelles, describes himself as a spiritual person and a nature lover.
Apart from being blessed with the gift of writing poems, Reuban believes that his four-year-old daughter Eliah is also a blessing and a great inspiration.
Plaisance schools are where he followed his primary and secondary education. He then pursued his studies at the NYS, followed one year foundation studies at the Anse Royale Polytechnic and moved on to the National Institute of Education, as it was called back then.
As the saying goes, we never stop learning. Reuban decided that he still had what it takes to take up another challenge. He is now in his second year, studying part-time at the School of Education, for a Bachelor in Education for primary.
Childhood recollections
"I guess I can say that my childhood days were OK. It was hard back in those days but I was happy," he said.
"I lived with both my parents at first and after my father moved abroad, I spent the rest of my childhood with my mum."
As his mother led his every step into adolescence and adulthood, Reuban grew closer to her and until now they have a strong bond.
"My childhood has had a great impact on my life. I grew up in a natural environment, in the mountains of Anse Major."
"I am a nature-lover now and I have great respect for my surrounding environment. It has also helped to change my lifestyle, for example I do not eat meat, I love things found locally such as coconut water and fruits."
Work, studying and family life
By the expression on his face, I knew that this is not an easy part of his life as Reuban had to readjust his lifestyle and make a lot of sacrifices.
"It's tough!" was the answer I got from Reuban.
But Eliah, being a source of inspiration for his father, keeps the young poet on a determined path to complete his studies.
"I always find time for my family. Eliah and I cook together, we read and watch movies and we also go out together as a family," he added.
Being a teacher
Media and public relations were Reuban's greatest interests back then. He wanted to form part of the media team but somehow destiny had other plans for him. Teaching was written on the walls of his life and 2013 will mark a decade since Reuban joined the great world of children, teaching and learning.
After having touched the lives of the little ones at La Retraite school and making a difference there during those five years spent, Reuban moved on to La Misère, where he is teaching at primary three level.
"Being a teacher is a great achievement and whoever takes up such a career should feel a sense of pride," he said.
"A teacher is someone who is always giving and sharing knowledge, new skills and good values to those around."
Challenges
Working with a group of children on a daily basis is not an easy task. It demands a great amount of energy, patience and love for them.
Reuban sees himself having to keep up with new teaching methods with the aim of meeting the needs of the children placed in his daily care.
Among his day to day tasks is keeping up with paperwork and ensuring that all proper records are kept.
The poet
It all started when Reuban was at NYS, being exposed to a great variety of literature during classes led by a Nigerian professor.
He and his classmates were asked to research on African leaders and people who can inspire them.
It was then that Reuban gathered new knowledge and became fond of the work done by those who have touched the world in the likes of Nelson Mandela and Martin Luther King. Bob Marley was another source of inspiration.
Poetry came in…
"I started writing for fun, like during the days at NYS I used to write for my friends so that they could give it as a gift to their girlfriends," he told me.
"After that, I joined and took part in several activities organised by the association for writers which was called Irogrif then. I wrote a poem called Mon Desten and during the launch of the association I recited it."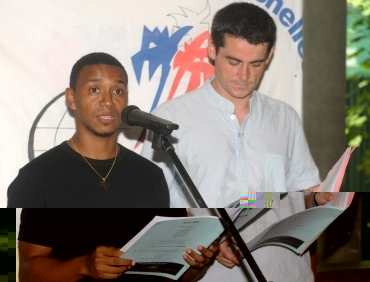 "I remember being interviewed by Jean Toussaint who was then a radio journalist at the Seychelles Broadcasting Corporation."
And from then, many doors opened for Reuban. He was asked to write and recite poems for several activities.
The publication of Reuban's collection entitled Mon Desten was one of his greatest achievements.
"It was Colette Gillieaux who helped me through. She talked to Penda Choppy -- who is the director of the Creole Institute -- about my poems. I was then asked to submit some of my work and then my first collection which I called Mon Desten was published," he recalled.
"The poem entitled Mon Desten is about me being a poet, it talks about poetry being my destiny, so this is why I called my first collection Mon Desten."
Reuban then kept climbing the ladder of success. He was asked to write poems on the national themes and published another collection of patriotic poems entitled Ansanm pour Lanmour Sesel which he presented to the then Vice-President Joseph Belmont.
In 2005, he travelled to Reunion to take part in the Poetry Festival organised there. He described his experience there as unforgettable, as he was the youngest poet taking part.
Locally, Reuban continued to promote poetry and kept writing for children and adults alike. He took part in various poetry contests and his work was always among the best ones if not the best.
After submitting a small poetry chapbook for the Rodolphine Young Award for Children's Literature in 2008, the young poet won the award for Annou Rimen, for the children aged 9-12 years old.
He uses a variety of themes; if he is inspired by nature, he will write about it.
"I enjoy writing about nature, my personal life, my experiences and feelings. I also write about women, silence, slavery and spirituality," he said.
Poetry in Seychelles
"There is a lot to be done to educate people on the work that poets do. Poetry is a beautiful art but it is not being appreciated much locally. So I believe there is much to be done to bring it to a higher level," he said.
Lardwaz, the body which regroups local writers, has done a lot and has plans for the future but we also need support, he added.
"I believe that our association and all of us poets need to come together, find ways to make our work known and to make poetry an art which is highly recognised in Seychelles."
by Mandy Bertin