UniSey strikes partnership with Indian university
07-November-2012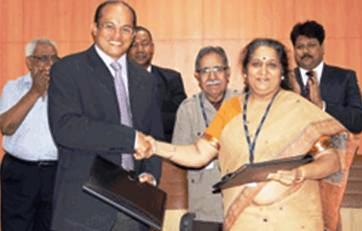 This follows the signing of a memorandum of understanding (MoU) between the UniSey and the University of Amity.
The accord is hoped to bring forth mutual understanding, the promotion of scholarly cooperation and friendly relations between the two Institutions.
Through this partnership, students from the two universities will benefit from exchange of academic information and faculty members, exchange of students and programmes, training and visits by faculty members, internship and faculty development programmes as well as joint workshops.
As research is crucial area for both parties, the UniSey and Amity will team up on joint research projects.
The MoU was signed by Dr B. Shukla, acting vice-chancellor of Amity University, Uttar Pradesh and Professor Rolph Payet, Minister for Energy and Environment and pro-chancellor of the UniSey in the presence of Seychelles' high commissioner to India Waven William and First Secretary Jean-Claude Adrienne.
It is to be noted that the signing of this accord has become possible through negotiations with Amity University initiated during the mission of President James Michel to India earlier this year.
Noting his gratitude and admiration for the partnership, Professor Payet expressed his hope that the link between the Unisey and Amity University will be meaningful and provide a forum for building mutual relationship and friendship between both the countries.
Prof. Payet also shared to those present the various programmes offered by the UniSey along with its ambitious future plans.
The Seychelles delegation were taken on a tour of the campus and Prof. Payet also gave a lecture on "Adaptation Science and the Sustainability Paradigm - lessons from Seychelles", highlighting how the ecosystem of small islands can have trickling effect on the bigger nations.
On her part, Dr Shukla said that the collaboration is going to be rewarding for both universities and for both countries.
She outlined various innovative areas where both institutes could work together including environment related areas, marine science, solar and renewable energy.
Amity University is the leading, private, non-profit education group in India with some 95,000 students. Courses offered by the institution on a full-time basis includes anthropology, applied sciences, commerce, fashion, biotech, communications, IT, language, food technology, forensic sciences, hotel management hospitality, nursing as well as performing arts, among others.