Delegates prepare national human rights action plan
08-November-2012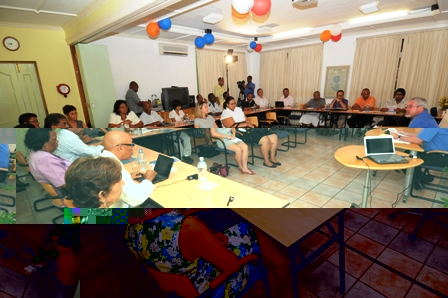 Such an action plan would be a roadmap which outlines deliberate actions for the promotion of human rights, focusing on national and international obligations, as well as country priorities.
To have such a document requires the review of documents, wide consultations with government and civil society, workshops, drafting, validation and finalisation of the plan.
And the two-day workshop, being held at the National Council for Children (NCC) head office at Bel Eau, was officially launched yesterday morning by the principal secretary for Foreign Affairs Maurice Loustau-Lalanne.
Among the aims of the workshop are to familiarise representatives with the concept of the plan; present and discuss objectives, content and format of the plan; agree on priority areas for data from interview and documentary analysis; and establish roles and responsibilities of representatives toward the development and implementation of the document.
Addressing the guests, Mr Loustau-Lalanne said Seychelles has taken numerous steps for the advancement of human rights.
"Our achievements have been constantly featured in international reports. Despite these achievements, we are conscious that we need to do more in order to fulfil our human rights obligations, and both the government and Seychellois society remain committed to this endeavour with aims to promote a national culture of respect for human rights," he said.
"The plan will be developed using the Commonwealth model national action plan as a basis, but tailored to suit our islands' culture, priorities, and development needs. The outcome will be a plan and the activity that will flow from it but, however, a large part of the success of the plan will depend on the manner in which it is developed, namely the breadth and depth of the consultation process and the extent to which it enjoys nationwide support."
The project has the guidance of local consultant Mahrookh Pardiwalla and Commonwealth lead consultant Justice Emile Short.
Among those taking part are representatives of government, non-government organisations and civil society sectors.
Mr Loustau-Lalanne asked those taking part to take the workshop as a vital part of the development of the plan, and to value its every step, provide as many ideas as possible, critically challenge the process, and agree to disagree.
The project is part of the Seychelles governance capacity-building programme and is funded under the 10th European Development Fund with financing of up to US $759,721 and is being implemented from April 2011 to July 2013 through a joint management with the United Nations Development Programme.